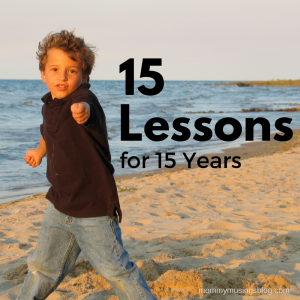 The following letter—15 lessons for 15 years—I wrote to my son on his 15th birthday, January 9, 2017. I left the letter on my son's pillow. After he read it, he came to my room,  gave me a hug and said: "Thank you."
I felt like a large stone was caught in my throat and I struggled to blink away heavy, bittersweet tears to no avail. I know my son needs me less now than he did when he was young, but I realized he still needs me in different ways. I hope I will always be there for him when he reaches out. 
Dear James, 
My baby has grown into a handsome young man. At 15 years old, you are observant, kind, curious, passionate, discerning, loud, stubborn, and loving. As you make your way through the thick forest of life, you will stumble and fall, leap and soar. You will ignore parental advice, and take dodgy advice from a stranger. You will make good and bad choices. You will learn from the mistakes you make as well as the glory you will achieve. You are courageous, good and young. Believe in yourself. I do.
15 lessons for 15 years
Have you written a letter to your child lately? 
This is my best work today. Thanks for reading. If you like this post, please feel free to share it with your friends or send me a comment. You can also post a comment on my blog or Facebook, or tweet me @kristinebruneau.