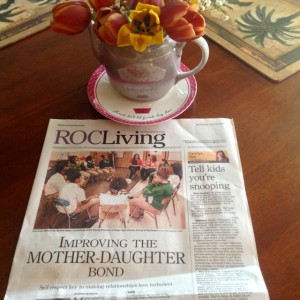 Recently, I had the privilege of interviewing Courtney Macavinta, youth development expert and co-founder of The Respect Institute, as part of a story on an upcoming mother-daughter event, presented by Young Women's College Prep Foundation. During the course of our lengthy phone conversation, Courtney shared her perspective and insight around respect, which means 'to look again' and the importance of nurturing self-respect among teens, especially girls. Essential to her teachings is a tool she developed – The Respect Basics. When practiced daily, these eight short phrases can help teens uncover what it means to behave with self-respect.
Courtney knows firsthand what it's like to live with family addiction, domestic violence, poverty, racism, and making her own risky choices. She fought to overcome those barriers and forge a different path for herself. She's an "at risk youth success story," but it wasn't an easy, or supportive journey. Eventually she discovered that what she needed, she already had inside of her: Respect. Since her discovery, she has wanted to help teens deal with and overcome issues such as self-doubt, negative body image, and bullying. Her message is that respect is always within reach because "self-respect is something you can nurture despite your circumstances."
The principles that Courtney preaches aren't just for young women; they can be embraced and practiced by anyone, young or middle-aged. I can see how The Respect Basics and other tools can help me to improve my listening skills, deal with conflict, and support my pre-teen son as he navigates his way through life's challenges.
You can read my story about "How to strengthen your mother-daughter connection" here. Courtney Macavinta will lead the "The Mother-Daughter Connection" at Nazareth College Performing Arts Center Thursday, June 5 at 7 p.m.  To get tickets and learn more about the program, call Young Women's College Prep at 585.244.0320 x2000 or visit youngwomenscollegeprep.org.
How do you talk to your teen or pre-teen about school? What things do you do to get your kid to tell you what's going on in his life?
Thanks for reading. If you like this post, please feel free to share it with your friends or send me a comment. You can also post a comment on my blog or Facebook.