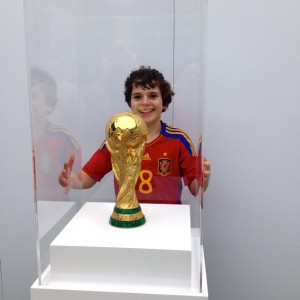 The frenzy of World Cup soccer was evident yesterday – June 12 – at my house. My twelve-year-old has been gearing up for weeks to get into the spirit of the World Cup, arguably the largest sporting event in the world. He's been playing FIFA World Cup 2014 on Xbox since May, studying the groups and teams, filling out FIFA World Cup Brazil soccer bracket pool sheets (over and over again as he changes his mind), reading articles and listening to reports about the World Cup.
Because I have a walking soccer encyclopedia who's usually willing to answer my silly World Cup questions, albeit with an occasional eye roll, I know a little bit more than the average mom. However, I ran across a list of 10 things non-soccer fans need to know about the World Cup that I found helpful. Interestingly, Google is tracking the questions that people in all 32 competing nations have been asking ahead of their opening matches, and some are downright silly, especially one from the United States: What does FC mean in soccer? (It stands for Football Club, duh)
While my husband, James, and James' friend were glued to the TV yesterday, our friends in Spain were also watching. More than 30 texts flitted over the Atlantic on What'sApp during the 90 plus minute game. Comments ranged from "look at his haircut" to "good to know some players would do well on the swim team."  For the next 30 days we'll be watching, playing, shouting, singing, and talking about the beautiful game.
Check out these videos for World Cup fun.
What are you watching?
Thanks for reading. If you like this post, please feel free to share it with your friends or send me a comment. You can also post a comment on my blog or Facebook.