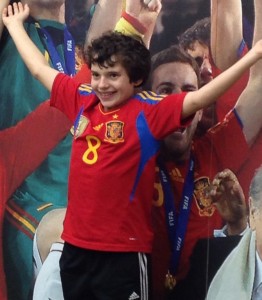 The rain in Spain, I learned does not fall mainly on the plain, but in the northern mountains. And while I felt a little like Eliza in the musical "My Fair Lady" trying desperately to lose my American accent by practicing Spanish speech exercises, I learned that it doesn't really matter. Upon arriving in Spain a few days ago, our Spanish friends (who also spoke English) made me and my family feel more than welcome. They made our trip to Spain feel like home.
And we've only just begun.
Before we traveled four hours to Granada from Madrid on our first day in Spain, the Spaniards had a surprise for us. My 12 year-old son James is a huge European futbol (soccer) fan. So when our friends pulled some strings to get us a personal tour of Ciudad del Futbol(Football City) – a sports complex that serves as the headquarters of the Royal Spanish Football Federation – my son couldn't stop smiling. Even this non-soccer mom realized what an amazing and rare experience this was. To tour the training fields of the Spanish national team, and tour the museum where the shirts of legendary players and the 2010 World Cup was "pretty cool," according to James. Even better was to shake hands with Vicente del Bosque, head coach of the Spanish national football team and hero to all of Spain and beyond. If that wasn't enough, we had lunch at the cafetorium.
"Just think," said James, "I could have sat in Xavi's seat, or Jordi Alba's seat, or Busquets seat!"
We are travelling with another American family whose son is just as nuts about soccer as James is. Our two families are staying in Granada, Spain, the 13th largest city in Spain, nestled at the foot of the Sierra Nevada mountains. We'll call this place home for 10 days and travel around the automonomus community of Andalusia in search of an otherworldly futbol experience.
Our sons will practice with youth academy teams from Malaga, Granada, and Almeria. In between, they will play futbol wherever and whenever they can. Futbol will transcend language and create bonds beyond our wildest expectations. As grown-ups, we will see, feel, smell, taste, and touch this beautiful culture, rich with history and take with us an unrequited love of Spain.