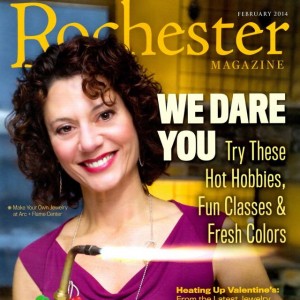 The February issue of Rochester Magazine started out as a quest-of-sorts to try and learn something new in Rochester. During the past year, I noticed a trend around learning something – anything – new, and different in a fun, hands-on way. From free to affordable, classes ranged from raising chickens, to writing memoir, to making bon-bons, to exploring coffee brewing techniques at Joe Bean. None required a huge time commitment, but it wasn't too difficult to choose which class to take first.
I'm not a fan of chickens.
I chose a handful of eclectic classes on subjects that I wanted to learn about and explore. I offered to write about my learnings for Rochester Magazine. Fortunately, the editor thought learning something new would make  a fun story, especially for the new year. He even started sending me suggestions! I passed on the hair blow-out, but took on the whiskey tasting workshop at Black Button Distilling, offered by Rochester Brainery, instead.
What happens when you get out of your comfort zone and try something new?
Get the February 2014 issue of Rochester Magazine and learn about it! You can buy the magazine at Wegmans, Barnes & Noble, and other places around Rochester. Or download the tablet app version via iTunes. And feel good knowing you support all the artists who contribute to this awesome magazine. I'm in good company because the writers all found something new to learn about, from curling to pleasure parties, and many things in between.
As a valued subscriber to my email newsletter, (hint: sign up here), you will receive a free pdf of my article. If you're reading this on Facebook, Networked Blogs or on my website and you're not yet a subscriber to my email list, click here or go to my blog (upper right corner) and sign up now. I'll send any new subscribers to my list before February 12, a pdf of the article, plus I'll continue to share photos and extras from my learning adventure.
Thanks for reading. If you like this post, please feel free to share it with your friends or send me a comment. You can also post a comment on my blog or Facebook.
P.S. Photographer Matt Wittmeyer made me look great despite the heat from the 3,000 degree flame emanating from the blowtorch I held at Arc + Flame Center. Designer Leah Balconi had the bright idea of putting a blow torch in my hand while Arc + Flame instructor and glass artist Eunsuh Choi tried explaining the finer points of shaping – not twisting – glass.