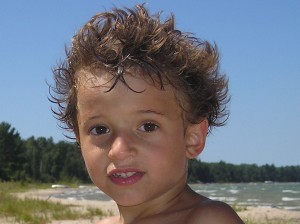 Kids are curious creatures; they have a way of looking at life without a filter.
"When I grow up I want to be a stay-at-home-Dad," said a young boy as I walked by his driveway with my dog Beck. I stopped and waited for the rest of the story as Beck sniffed my neighbor's mailbox, lifted his leg, and peed.
"I'm going to sit at home and watch football all day," the boy continued.
"And take care of the kids, right?" I asked. The little boy shook his head, no. And then he ran away to play.
Maybe this kid is on to something
What about a stay at home mom who doesn't have to take care of the kids and can watch TV all day? Or is that called lack of ambition? I'm happy to report that my husband and I "divide and conquer" when it comes to taking care of our son. We share things like helping with homework, driving to endless soccer practices, making meals, and more. So taking care of our kid is something we want to do.
I'm not a stay at home mom
But I did stay at home with James for his first five years. And I learned that playing the role of mom is hard, regardless of whether you're a stay at home mom, dad or neither. Our society tends to create a hostile environment in which women are made to feel inadequate for being unable to live up to an unrealistic image of the uber-mom. I'm proud of my 12 years experience under the watchful eye of my curious child – warts and all.
Mirror, mirror
Somehow our kids become reflections of ourselves, which can be a hard pill to swallow. It's all in how we look at it. There's not a single enlightening moment in raising kids, but a series of discovery moments – from the decision to have a child, to waddling through nausea, to training the dog to stay out of the crib, to breastfeeding, to the end of a good night's sleep, and to watching baby grow. How we react to these changes, situations, and other life-events shapes our kids.
As moms, we worry about our kids growth patterns, sleep habits, and whether or not we can truly mask the taste of flaxseed in a chocolate chip cookie for your pre-schooler (you can't). Often we're at odds with ourselves, questioning our competence, confidence, and composure. Many moms I've interviewed constantly battle the little noises in their heads that say: Am I good enough? Am I doing the right things? Am I spoiling my kid? Am I learning from my mistakes? Have I become (dun, dun, DUN) my mom?! Fear, resistance, and distraction all play a role. I'm comforted in knowing that other moms (and dads, too) are riding a crazy train of exasperation, fear, frustration, confusion, illness, and silliness. At the very least, it makes me feel a little less self-conscious.
Kids say the funniest things. They ask questions, poke at the inner and outer workings of things, solve problems independently, and share their frustrations with people who don't interject or ask too many questions. The latter takes a lot of self-restraint on my part. Over the years, I've listened and taken notes on some of the things kids say. Looking back, I'm glad I've been able to capture a few of them. Here are a few of my favorite quotes from kids. Happy Mother's Day!
"I had a rough day."

"My favorite part of school is recess."

"I try to always wear black."

"My teacher thinks we're the best class she's had. She doesn't like 7th graders. They talk back too much."

"Sometimes it's big and sometimes it's small."

"I'm the right tilt."

"I missed you in my sleep."

"I don't have an off button."

"I like the smell of sweet dog breath."

"I burped an idea."

"Nonfiction makes you smart."

"I don't have a tail. I'm a primate."

"I love you Mommy."
What are your favorite quotes from kids?
Thanks for reading. If you like this post, please feel free to share it with your friends or send me a comment. You can also post a comment on my blog or Facebook.