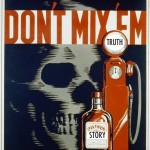 We tell stories every day. The stories we tell our friends and families are from our experiences. These stories can be funny, or insightful, or gut-wrenching. We tell these stories to make others feel something and, perhaps, to get them on our side. Sometimes, however, the facts of our story expand or contract. The story becomes better if we just leave this bit out or move that chunk here. We embellish part of a conversation to amplify the feeling we had at the time because, after all, who can remember exactly what was said in a conversation that happened 20 minutes ago let alone a year or more (without a transcript)?
What if someone changes the facts of a story you believed was true? Does it matter?
Recently, a controversy erupted over truth in storytelling on "This American Life" (TAL) – one of the most popular podcasts in this country. In January, TAL aired "Mr. Daisey and the Apple Factory" a story about visiting a plant in China where Apple manufactures iPhones and iPads and other products. It's a fascinating story performed by Mike Daisey as a one-man show called "The Agony and the Ecstasy of Steve Jobs."
Daisey is a self-proclaimed Apple fanboy until he saw some photos from a new iPhone taken by a worker at the factory where it was made. Seeing these photos made him curious about who makes all his Apple stuff. Daisey travelled to China in pursuit of the truth. He built his show around what he learned while he was there. When Ira Glass, host and originator of TAL came knocking on Daisey's door and asked him to adapt the show for millions of TAL fans, Daisey jumped at the opportunity.
TAL is the kind of platform that can really elevate someone from relative obscurity to superstar. It's kind of like when Oprah chooses your book for her book club. Book sales soar. Everyone wants to interview you. You become an overnight sensation.
But something was wrong with Mike Daisey's story.
It's deja-Frey (and "A Million Little Pieces") all over again. Although TAL staff checked most of Daisey's facts and trusted Daisey when he said that his work was based on truth, other knowledgeable reporters noticed errors in Mike Daisey's monologue. In Daisey's show, he said that workers told him they held illegal union meetings at Starbucks when Chinese workers can't afford to buy even one drink there. Daisey also reported seeing that the factory security guards held guns during his visit when only the military and police in China are allowed to have guns.
I know when my son doesn't tell the truth to protect himself against getting into trouble for not brushing his teeth. This is a tiny infraction and sometimes it makes me angry, but it also makes me laugh because I know the truth. The stuff about Chinese workers and guns I wouldn't know, but I believed Daisey because these facts were presented in his story as the truth.
After learning that many parts of Mike Daisey's story were not factual, TAL removed the podcast from their site and issued not only an apology, but another story that explained the retraction. Like Oprah, Glass was justifiably and royally pissed off for being misled. When Daisey was confronted with the errors, he admitted to changing facts in his story to make it more dramatic for the stage. Although he apologized to Glass for misrepresenting his work as journalism, he could have used another scoop of humility.
There's a compelling exchange in TAL's "Retraction" story between reporter Rob Schmitz and Mike Daisey's translator Cathy Lee. For me, it was a discovery moment because Lee accepted the idea that since Mike Daisey is a writer and not a journalist he is allowed to write things that are not true. As Schmitz talks to her a little more, she also says that Daisy's allowed to exaggerate, although maybe he should be telling the truth so Americans aren't misled about the real China.
My good friends lived in China for three years and have told me some incredible stories about what they've seen. Based on their first-hand accounts, China isn't a place I would want to visit, work, or live. I'm aware, however, that the iPhone, iPad and other Apple products (and most everything) I own are made in China under working conditions that this country hasn't seen in a long time. I have the power to make different choices and advocate for changing the status quo. But so do businesses around the world, and so do the people of China.
Mike Daisey is a masterful storyteller. He blends truth with drama to create his art. He succeeded in creating an experience about working conditions in China that made me think. That's a good thing. However, Daisey miscalibrated when he failed to fully disclose that what he said in his monologue may not have happened exactly the way it happened.
Like an addict who tells his lies over and over again, Daisey created a world where even he couldn't tell the difference between what is true and what isn't.
P.S. Here's a link to the original retracted podcast from TAL: Mr. Daisey and the Apple Factory