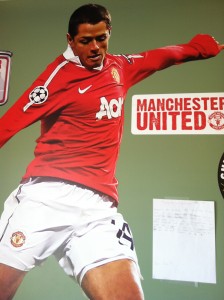 "I still remember the header," said James, heavy-eyed as he wobbled down the stairs at 8:30 am.
Ah, yes. The header – a moment on the pitch too precious to forget. On Saturday, July 9, 2011 at approximately 5:30 pm during a tournament game against the Fairport Galaxy, James scored on a superb header – dipping his head to redirect his teammate's cross – in the 47th minute.
James celebrated his goal Chicharito-style. Chicharito is the nickname (Spanish for little bean) for Mexican Javier Hernández Balcázar who currently plays as a forward for Manchester United. James ran the length of the field with his arms outstretched like an airplane, pausing to kiss his badge and looking up to the heavens to thank God.
Interestingly, during half time, the Penfield Rangers Lightning Strikes team of 9 year-olds promised their coach (Rob who filled in as head coach for the day) that they would score a goal.
"If they did this," said Rob, "they won – no matter what the other team did."
Later that evening, James wrote about his day:
Fairport was winning 2-0. There were 3 minutes left in the game. My teammate Alarico crossed the ball to me, then I headed it in. The crowd went wild. I was so happy! Then the game ended. We said 'good game' to the other team and I got a lot of complements. We lost, but in my heart we won. That was one of the best moments of my life!
James taped the note onto his bedroom wall beneath his idol Chicharito and fell asleep happy.
Coach's mantra: Play with a smile, play happy, have fun and be creative.
What was your most recent precious moment?
Connect with me on Facebook or Twitter. Leave a comment on my website or send me an email.