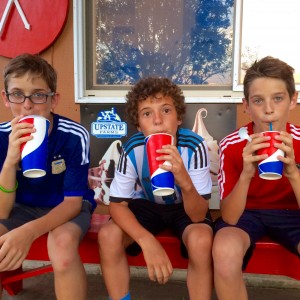 What happens when unaccompanied minors travel from Granada, Spain to live with you for three weeks during summer? They become family. (Read Unaccompanied Minors: part 1, if you missed it.)
I believe that family is a group of people related to each other by blood or connection; those who support and help each other, but who do not necessarily live under one roof. Having temporarily lived with friends in Spain and in America and hosted boys and young men over the past five years, I'd like to think I have embraced the expanded meaning of family whole-heartedly. 
With our boys of summer – Manu and Javi – our collective experiences of living, traveling, eating, sleeping and playing together everyday, under one roof made a lasting impression. We acted like family and in the end we were family. The boys pitched in to feed our fish, carry in groceries, and play with the dogs. They ran through the house, hiding, laughing, making silly faces and emitting strange noises – some of which we could have done without. 
What began as a lice panic one morning, thankfully turned out to be a false alarm upon closer inspection of everyone's hair. (It turned out to be a bug bite and dandruff. Phew!) There were a few other embarrassing moments – I won't share all of them, but one. If you ever had to go to the bathroom only to discover (too late) that there is no toilet paper, it is family who always comes to the rescue!
Ready to go anywhere and experience something new, our boys were just as happy to relax at home and watch a movie, play Xbox, kick a soccer ball, or watch videos on their phone.
Using a mobile phone in a foreign country can be expensive, but being connected was important to our boys, so I agreed to set them up with wireless cards. How difficult could it be? 
Apparently, it is cheaper to buy a local SIM card for your European phone. For about $40 (including the card) you get free international calls and SMS both ways plus 1 MB data in the US. After searching for a store that sold the recommended brand (Ultra), I purchased SIM cards for the boys from a wireless store on Clifford Avenue in Rochester. Now, if you're a GenXer who lives in the suburbs like me, you may not be entirely familiar with the Clifford Avenue neighborhood, or "ghetto" as my brother so eloquently put it. 
When I arrived at the store in my flowery baseball hat, t-shirt and shorts, I stood out like a bright, red thumb. 
Peering through the bullet-proof glass, I kindly asked the clerk if she could cut a wireless card to fit our boys' European phones. She went to the back of the store and returned 10 minutes later with my cards cut to micro-size. The store only took cash, which of course I failed to carry. Thankfully, there was an ATM machine in the store, a few feet from a guy who seemed to be painting the same wall over and over again. I paid and got the heck out of there.
Later, Javi pointed out that his card was too big for his phone – it wouldn't work. I needed to go back to the store to have it re-cut. This time, I brought my bodyguard brother with me since he knew how to "blend in."
Thank goodness for family!
After returning from our trip to Chicago to watch Manchester United game and visit with friends, we only had a few days before sending our boys back to Spain. None of us wanted this summer to end. 
With my unaccompanied minors ready to be delivered into Delta Airline's special service for children who are flying alone, we shared one last adventure together. 
Here are few of my travel lessons:
What I didn't expect
+The need to stay with the boys, in the airport until the plane took off
+Filling out additional paperwork for each traveling boy (took about 30 minutes to check them both in)
+Discovering that the flight had been delayed over an hour due to air traffic congestion at JFK airport
+Paying an additional $150 for unaccompanied minors (we were told it was $150 per group not per kid)
+Accompanying boys through airport security and staying with them at the gate until the plane took off three hours later
+Needing James's passport to go through security 
+Having security refuse to allow a gift for the boys' mom (lotion and shower gel) go through carry-on baggage because it didn't meet the the liquid ounce requirements
+Leaving the boys with security to get a checked bag from baggage claim to place the gift inside
+Going back to the check-in counter to re-check the bag
+Going through security for a second time
+Needing the overpriced massage chairs to "de-stress"
 What went right
+We arrived at the airport well in advance of departure time
+Luggage met the weight requirements
+Tennis bag with skateboard met the carry-on dimensions
+I brought extra cash (just in case) 
+I remembered my passport
+We all made it through security (even without James's passport)
+Every airline-related agent and airport security person we encountered was friendly, nice and genuinely wanted to help us 
+We got to spend more time together
+Boys didn't have to spend as much time at JFK airport
+Boys arrived at JFK in plenty of time to make their international flight to Malaga, Spain
+Everyone enjoyed the overpriced massage chairs
Sometimes you will never know the value of a moment, until it becomes a memory. – Dr. Seuss
What do you think?
This is my best work today. Thanks for reading. If you like this post, please feel free to share it with your friends or send me a comment. You can also post a comment on my blog, or Facebook, or tweet me @kristinebruneau. Wherever you are online, I'm probably there, too – so look me up!