I don't know much about soccer, but I have come to appreciate the fitness, skill and mind-set needed to play since my son James became passionate about the game. Heck, we even named the dog Beck – for David Beckham.
So, when our friend (a well-connected Manchester United fan) asked us if we wanted tickets to a match between two of the world's best teams: Manchester United and Barcelona in Washington, D.C. we said, "Hell, yes!"
Rob and I kept the game a quasi-secret from James until a few days before we left. Manchester United is one of his favorite teams. His other favorite team is Barcelona. He knew we were going to D.C. to watch Man U play, and thought their opponents were MLS team D.C. United. Imagine his surprise when he learned the true match-up.
In May when we watched the UEFA Champions League final on TV, James wore Man U regalia – hat, scarf and jersey – in the first half. However, when it became apparent that Barcelona had the edge, James switched to Barcelona colors and rooted them to victory. The Catalan giants defeated Man U 3-1.
We arrived midday in D.C. on Friday, July 29 where the temperature reached a sweltering 102 degrees. From our hotel in Alexandria we drove to FedEx Field (home of the Redskins in case you didn't know) to the open training session. After a lot of walking around and figuring out where our seats were we finally settled in two rows behind the goal.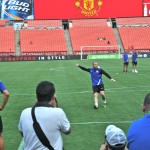 James was thrilled to watch Man U's greatest players warm up and practice. A shot by Wayne Rooney went wide and nearly took my head off as I snapped photos. Many balls rocketed into the stadium to the delight (and pain) of fans.
After practice, some players walked up to fans to sign shirts and program books. It was exciting for James to see some of his favorites up close and get signatures (Evra, Park, Giggs, Vidic, Berbatov and Nani). Heck, even I was excited to see these guys. (They're not big, but in fantastic shape.)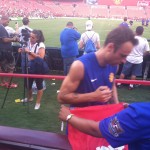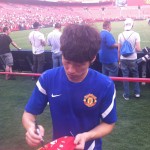 Barcelona took the field over after Man U left, and James changed into a Barcelona jersey (I carried a bag of at least a half dozen jerseys for James). Although we didn't see James's idol Lionel Messi, there were many other great players to watch.  At the end of practice, James grooved and chanted with other Barca fans as they waited at least 30 minutes for autographs.  A TV reporter interviewed a little boy next to James while her camera man recorded the music from the audience. James was rewarded with autographs from: Villa, Maxwell, Masip and Suarez.
On match day – Saturday, July 30, 2011 – nearly 90,000 fans turned out in force at FedEx Field despite the oppressive heat to watch Europe's 2 most successful clubs battle. While we all wore red and black for Man U in deference to our wonderful benefactors, (James wore a Chicharito jersey) we rooted for both teams. It was a top-class game with Man U defeating Barcelona 2-1.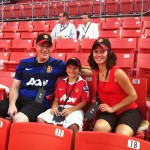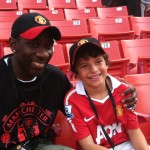 Watching Saturday's game was spectacular even if I still don't understand what offsides means. However, Friday night's unforgettable training session, surrounded by admiring fans and my family is the experience I will savor most.