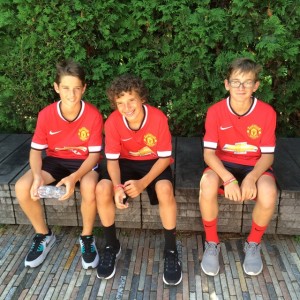 What happens when unaccompanied minors travel from Granada, Spain to live with you for three weeks during summer? They become family.
Unaccompanied minors is a special service some airlines have for children who are flying alone. Our sleepy unaccompanied minors arrived around midnight July 12th from Granada, Spain. A few hours later, 13 year-old twins Javi and Manu didn't miss a beat as they rolled out of bed and piled into the car to cheer on James and his team at a soccer game. 
Later that evening, I took the boys to Target. Walking through the cereal aisle, Javi (short for Javier) looked around wide-eyed and exclaimed: "You have so many choices!" 
Welcome to America – the land of abundance!
From sugary-sweet cereals to potato chip flavors, we have something for everyone.  The boys chose Cocoa Krispies, Captain Crunch, and classic Pringles, among other snack foods they were hankering for. However, this wasn't their first trip to America – the boys stayed with another (awesome) family last year for an international soccer camp exchange arranged by AddSoccer. They had already discovered Slim Jims and were pleased to see we had their favorite spread: Nutella – a staple in Spain, which they spread on waffles, toast, pretzels and just about anything.
During last summer's camp, James became friends with Javi and Manu (short for Manuel). And they invited him to stay at their home during our visit to Granada, Spain last February.
Javi and Manu had no trouble falling into sync with our family of three plus two dogs. They enjoyed eating, snacking, playing soccer, football, tennis, mini-golf, and hide and seek, swimming and shopping.
"Do you have a spending limit?" asked my husband Rob.  
"No!" replied Manu.
Rob laughed so hard he couldn't respond to try and ask the question differently. Something may have been lost in translation, however, the boys caught on quickly. Later, we learned they brought money to spend on anything they wished to buy–and they were determined to spend it all. They had a reserve stash for family gifts, too. So we helped them spend their money in Rochester and Chicago.
If you want to go fast, go alone. If you want to go far, go together. – African Proverb 
We drove 600 miles to see Manchester United F.C. and Paris Saint-Germain F.C. play at Soldier Field in Chicago on Wednesday, July 29 for the 2015 International Champions Cup North America presented by Guinness. (Special thanks to our friend and wingman Anthony).
Unfortunately, our team – ManU lost to PSG, but we had an unforgettable time. Attending the game and staying with our Chicago-area friends was the highlight of our summer. Some of my favorite memories are:
+ trying to paddle a pontoon boat that only went in circles
+ eating chips and sandwiches in the middle of a lake we couldn't swim in because of high levels of E.Coli
+ riding bicycles around Libertyville, which is conveniently located between Chicago and Milwaukee just west of Interstate 94
+ watching four grown men play soccer tennis (not pretty)
+ shopping the outlets in Wisconsin  
+ watching the boys tear apart an express package from Manchester United containing pre-game "goodie bags"
+ seeing the bean, the head and the gardens at Millennium Park
+ speaking to friendly strangers who would stop us at Chicago's Millennium Park and ask about the boys' Manchester United jerseys
+ hearing a little boy ask his mom: "Why are those kids wearing Chevy costumes?" (Chevrolet is Manchester United's sponsor and its logo is emblazoned across the front of the jersey, indeed resembling a costume).
+ driving in Chicago traffic at 5 p.m. (not recommended!)
+ enjoying authentic, deep dish pizza from Pizanos
+ walking behind the boys as they walked onto the field prior to the game
+ listening to the boys begging Manchester United's goalkeeper De Gea – a Spaniard rumored to be transferred to Real Madrid– not to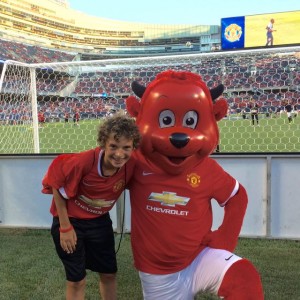 leave the club
+ taking a picture with Manchester United mascot "Fred the Red" who looked more like a cartoonish red cat than a red devil
+ strolling along main street Libertyville
+ seeing Chicagoan family: Kim, Andrew and Katlyn
Our 20-plus hour road trip was uneventful. I guess traveling with teenage boys is a breeze when your connected with wi-fi!
What do you think?
This is my best work today. Thanks for reading. If you like this post, please feel free to share it with your friends or send me a comment. You can also post a comment on my blog, or Facebook, or tweet me @kristinebruneau. Wherever you are online, I'm probably there, too – so look me up!