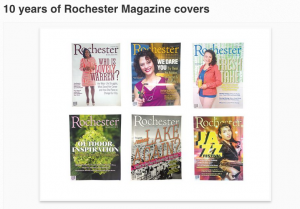 I love writing for Rochester Magazine. I don't get to write for the magazine very often, but when I do (pick me! pick me!) it's exciting. I know I'm part of an award winning, accomplished team of artists who are doing something they love. I get to be in the "creative" circle. Heck, I even got to be on the cover of Rochester Magazine!
The circle of story (or how I write)
Freelance writing for any publication is mostly a solitary affair. I don't punch a time card in an office building. I show up at my desk – my cup of fresh pressed coffee from Joe Bean next to me – with many ideas swimming in my head. I tap these tidbits out on my keyboard, while talking to myself. (My interns are usually sleeping in a sunbeam.) I come up with the ideal story and bravely pitch it to a magazine. Sometimes the pitch falls flat, but when it flies the circle of story begins. 
I research, interview people, transcribe quotes, gather wool, write my shitty first draft and edit. I can't tell you how many drafts I write – I start off by numbering my drafts and then lose interest. I usually don't outline, but I do mind map my "internal" dialogue to get out of my head and put some structure around my story. 
I relentlessly tweak my story over and over again until it feels good to me. I obsess over the details. As soon as I think the story is ready to submit, I put it away for a day or two – if I have the luxury. Upon visiting my story again, I search for typos, grammar goofs, factual errors, wordiness, or the myriad of things that just don't feel right. I pull out my tattered Elements of Style, correct my gaffes, kill a few more "darlings" and get closer to my assigned word count. I read the story aloud, and then silently a few more times until I'm ready once again to send it to an editor. 
Sometimes I get zero feedback and no changes to the story, which leaves me worried. Other times I get zero feedback, but upon reading the published story, the editor has made some changes, which irk me. And then there are times I receive feedback from a caring, nurturing and knowledgeable editor who is in my corner and wants to see me succeed. 
Rochester Magazine editor Mark Liu is one of those extraordinary editors who gets the best out of writers. He lovingly changes a word, phrase, or headline and immediately the story transforms from good to great. And that makes me happy! 
Editor and writer connection.
With help from a talented editor, the pieces of story a writer struggles with will come together in an enlightening way. I submitted my first story for Rochester Magazine with the headline "Looking for Vegetopia." Mark changed the headline to "Searching for Vegetopia." One word change made a big difference in capturing the reader's attention. Mark also helped me focus and shape the entire story. He encouraged me to stay true to my voice and pushed me to explore my feelings and show how I felt on paper. He helped me craft a better story than I could have ever imagined. I continue to channel what I learned from that period (2007), and apply it to all my stories. My work has been published four times in Rochester Magazine's ten years of publication:
+ "Searching for Vegetopia" 
+ "A Lawn Affair" 
+ "Don't Scarf the Chocolate" 
+ "Learn Something New"
Just keep writing (and reading).
I also wrote a story that was cut from Rochester Magazine due to low ad sales – "How to do 40 better"– and have pitched countless others that just failed to resonate. But I never stopped writing. 
While I won't make a living by freelance writing for Rochester Magazine, I am richer because of writing for the magazine. I've become a better writer and improved my editing skills. With every issue of I read, I learn something new about the people, places and things that make Rochester a great cultural and family-friendly city to live in. The magazine – whether or not I write for it – makes me proud. 
Rochester Magazine's 10th anniversary issue is out in print and online. The tablet app edition is gone, but has given way to a full website at rochmagazine.com  The new online experience will feature additional stories, photo galleries and daily news, plus expanded lifestyle coverage of the Rochester and Finger Lakes region. Alas, the "We Dare You"– February 2014 cover of me wielding a blow torch did not make the staff's favorite cover list.
Regardless, you can look through all Rochester Magazine covers online and make your own list of favorites. 
What do you think?
This is my best work today. Thanks for reading. If you like this post, please feel free to share it with your friends or send me a comment. You can also post a comment on my blog, or Facebook, or tweet me @kristinebruneau. Wherever you are online, I'm probably there, too – so look me up!