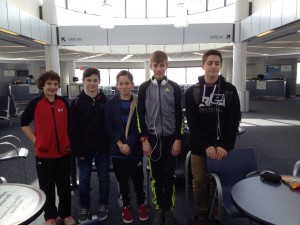 Traveling with five teenage boys to Granada, Spain proved easier than I thought. If you don't count one pair of broken headphones (a casualty of a mini soccer game in the Philadelphia airport), one iPhone thought to be lost sometime during our four hour layover in Philadelphia, but mercifully discovered in a backpack somewhere over the Atlantic, and a another iPhone casually left in a seat pocket on our Madrid flight (thankfully reunited with its owner before departing for Granada) then 24 hours of air travel with teenagers was kind of, well, boring.
Despite the damp chill of our Valentine's Day arrival in Granada, Spain, a crowd had gathered to welcome us with  hugs and kisses, customary of the warm and friendly nature of Spaniards.
Although no one in my traveling party speaks even close to fluent Spanish, it didn't matter. Most of our hosts spoke very good English. Our five boys know enough to get what they need because food and futbol is universal. As the boys departed with their host familes to get to know them, Rob, Lara, Tim and I left with our friend Antonio to enjoy dinner at his house. Antonio's wife Maca made us a delicious homemade moussaka followed by a light and flaky apple pie. It felt like home.
Meet the boys
Adam Black, 15, Grade 10, Pittsford Mendon High School, Pittsford
"Though soccer isn't his passion – he enjoys it, plays it, and uses sports (basketball, soccer, paintball) as a way to engage with other people. It's a catalyst that connects him to others."
Noah Black, 13, Grade 7, Barker Road Middle School, Pittsford
"Noah is hungry for the idea to see the best in the world and where everyone can play from two to ninety years old. He wants the opportunity to be the best he can be."
–  Lara Black, 46, mom, chauffeur, and cook
James Bruneau, 13, Grade 7, Bay Trail Middle School, Penfield
"James believes he belongs with others who 'get him' and his passion for soccer. He's curious about fanatical soccer cultures and likes to connect with anyone who shares his passion for soccer." – Rob Bruneau, 49, financial analyst
Aidan Cady, 13, Grade 7, East Rochester Mid/High School, East Rochester
"Aidan's interest in the culture of soccer extends to other countries because soccer is a bigger part of people's lives around the globe rather than here in America. He can easily identify with others who share his passion for soccer."  – Michaela Cady, 34, stay-at-home mom
Ty Wilkes, 12, Grade 7, Barker Road Middle School, Pittsford
"Since Ty discovered European soccer around age 9, he has learned more about different clubs, leagues, players, and coaches all over the world than most adults. His interest in history and the sport has led him to his curiosity about the culture of the sport." – Tim Wilkes, 49, Photographer/Owner, Tim Wilkes Photography
I will be travel blogging here on Mommy Musings and on the Democrat and Chronicle Moms blog from February 14 – 23. Check out more photos and videos on Facebook and Twitter.
This is my best work today. Thanks for reading. If you like this post, please feel free to share it with your friends or send me a comment. You can also post a comment on my blog or Facebook, or tweet me @kristinebruneau.