Pilgrimage to Alhambra – Granada, Spain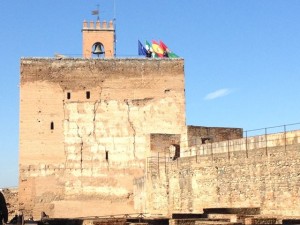 Aside from fútbol, our visit to Granada, Spain would have been incomplete without touring the spectacular Alhambra. The Alhambra, I learned, is a vast complex of palaces and military fortresses built by Arabian royalty from the 9th through 14th century to establish the Kingdom of Granada. Walking along the corridors and pathways, in the footsteps of rulers from long ago, me and my fellow pilgrims were treated to a visual feast of artisan work or "fairy hands." Hand-detailed mosaics, geometric tiles, and carved wooden inlays rolled into a series of patios, fountains, courts, and chambers, and made us stop in awe of it all. I think my family's favorite part of the Alhambra was the Torre de la Vela (watchtower). There we saw one of the most beautiful panoramic views of the Sierra Nevada and city of Granada, including the Albayzin – a maze of narrow, winding streets that hail from Granada's Medieval Moorish past.
It's said that Granada stole the heart of legendary author, Washington Irving. Irving was so enamored and inspired by the Alhambra, where he lived for several months in 1829 that he wrote "Tales of the Alhambra." Part history, part legend, Irving lived in the middle of an Arabian tale where he cut himself off from every day life to drink in "proud-spirited, romantic Spain; where the old magnificent barbaric spirit still contends against the utilitarianism of modern civilization." A tribute to Irving can be found along the emerald and stone path ascending to the Alhambra.
Sweet and Savory Streets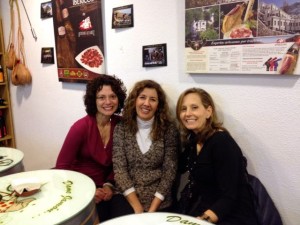 To eat when we were hungry in Granada, we only had to follow our noses. Andalusian cuisine is influenced by the rural and coastal regions. Smells of fresh baked bread, empanadas, and other delicious pastries wafted from open bakery doors. At lunch time, which is around 3 pm, we could smell savory dishes since the Spaniards use lots of olive oil to cook with. Common dishes are fried fish, "pescaito frito." cold soups like salmorejo, and a mixture of fried eggs, meats and potatoes. I loved Tapas. Whenever you order a wine or cerveza, you get Tapas, or small meals to share with your companions. And, I can't ever forget about ham. Spanish love ham, especially the cured Serrano Ham. Ham was everywhere; which can make it tough for a vegetarian like me. So, what did I eat? It's surprisingly easy to stick with a vegetarian diet and I snacked on the most delicious tasting olives I've ever eaten. However, I opted to fall off the wagon to sample what our Spanish hosts offered for meals (in moderation, of course). One night led the grown ups to a butcher shop named "Dame Jamon." Translated it means: Give me ham! When in Spain, I think one should experience it all. Except the pulpo (octopus). I don't do pulpo. Ah well!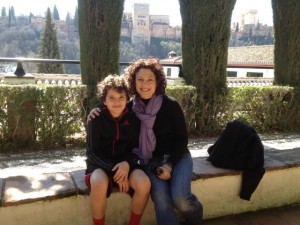 Sierra Nevada – Granada, Spain
We drove up the winding roads to the Sierra Nevada. Our destination was to tour a professional sports training facility – best in class at 2300 meters.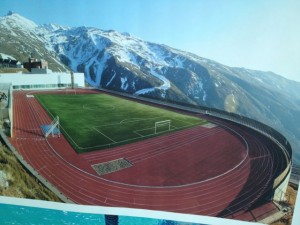 Fútbol. Always Fútbol!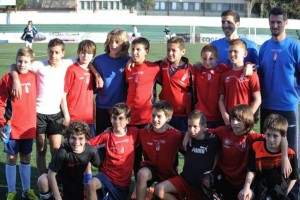 Aqui! Aqui! The words most often spoken during practice was acqui or here. I observed the Spaniards training to keep the ball, protect the ball, and put pressure on other players. Our boys had very good technical skills and were confident in their ability to play with other boys. Having self confidence seems to go hand-in-hand with keeping up with the intensity of the game. Above all else, the lesson is to have fun.
Malaga Club de Fútbol – Malaga Spain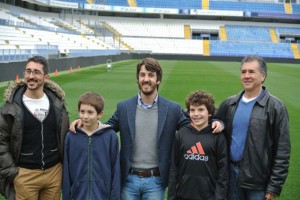 Our two aspiring fútbol players flanked by their Spanish coaches Antonio and David (also American) and Malaga Club de Fútbol head of scout Adrian. Perhaps a good Omen?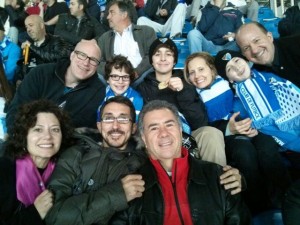 We visited La Roseleda stadium in Malaga for a personal tour. Following that the boys practiced with Malaga's youth academy team. We ended the evening watching a fútbol game between Malaga and Betis.
Amigos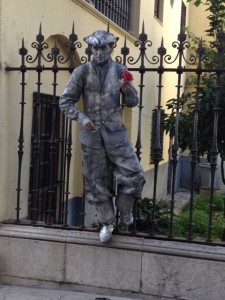 Our amigos were always patient and courteous, greeting us by either shaking hands, or kissing on both cheeks. And friends of our friends did the same. We were always greeted hello and said good-bye to when ready to leave. The Spaniards value politeness, and although they might walk right into you, they will apologize. I think most liked it when we attempted to speak Spanish even if it was limited.
Treasured Moments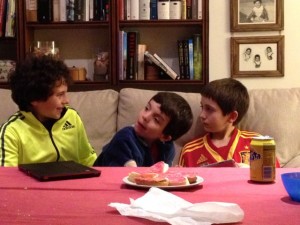 James and Noah playing with Antonio and Maca's son Nacho, who has special needs.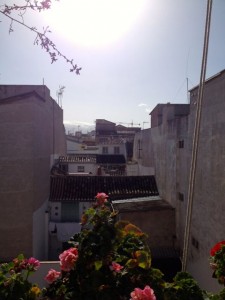 Drinking coffee on the terrace of our friends apartment was just one of the treasured moments I had in Granada. Words can only help tell pieces of the story of what I experienced in this Andalusian town.
Just as Granada stole Irving's heart, Granada has stolen my heart. I have seen, felt, smelled, tasted, and touched this beautiful culture, rich with history. Adios Granada. I'll be back.