Musician, singer, songwriter, artist, father, husband, son, friend and The Boss, Bruce Springsteen is all of these labels we have placed upon him and, none of them. He is who he is – a humble, intelligent and kind man who loves what he does and just happens to perform in front of sold-out crowds, for more than four decades. 
Last Saturday at Blue Cross Arena in Rochester, I had the pleasure of spending an evening with Bruce Springsteen and the E Street Band in the pit (standing room only area directly in front of the stage) with my best friend Rob and 650 fans, of which a half dozen or so became instant friends. How could we not bond with the people invading our personal space – literally rubbing shoulders, shouting in each other's ear, and offering to hold the floor until we return from a beer or bathroom run during the pre show hours?
To get into the pit fans needed to follow a process:
Arrive between 2 p.m. and 5 p.m. at the arena, flash your ticket and receive a numbered gray wristband.

Return by 4:30 p.m. to line up and wait alongside 1,000 + individuals until just after 5 p.m. 

Watch as a random number is drawn.

Hold breath as the someone announces: 285. Scream in excitement because you hold numbers 370 and 371 and made the cut along with a woman who is celebrating her 65th birthday with her son at the concert. She tells you her wish is to get up on stage and dance with Bruce. Her son is holding a sign to wave. 

Walk single file as close to the wall of the Blue Cross Arena as possible and in proper order (very important). 

Receive another colored wristband.

Wait a few more minutes until allowed into the arena to secure a spot in the pit just after 5:30 p.m.  
Our Beautiful Reward was to hold firm to our spot until showtime (just after 8:00 p.m.). So we made friends with several Canadians and a Sicilian woman with a sign: I came from Sicily for you and now?! 
Later, our new Canadian friend showed us photos from the Toronto show with the Sicilian's sign obscuring his shots. He forgave the Sicilian because after all we were at a concert with rabid fans who hold up signs, scream, jump and reach out to touch Bruce as if he were God. 
Bruce reminds us that he is just a man trying to make sense of life. 
From his pulpit he tells us that his pursuit of commitment and connection in life and with family is ultimately why he made The River album in 1980. And he was here to share his story with us from top to bottom, 36 years later. 
It's the Ties That Bind tour and we couldn't wait to walk the line with Sherry Darling or reflect upon whether or not we gave up our dreams as our hero pondered Down In The Jackson Cage. Although being vulnerable in love leaves us open to hurt, we know deep down that Two Hearts Are Better Than One. 
Some of us feel the sting and poignancy of not seeing eye to eye with a father or mother, but have embraced our own Independence Day.  Others struggle to understand why lovers who have it all find themselves yearning for something more with a Hungry Heart they can't control.
Like hormone-filled teenagers, we let loose our inhibitions Out In The Street dancing, singing and jumping to the beat. We feel the heart-thumping excitement having a Crush on You, the yearning for someone whom You Can Look (But You Better Not Touch) and daydreaming about a life with someone we see from a distance in I Wanna Marry You. 
Time is finite and constantly flowing like The River. Hopefully we can do some good while we are still on this earth. And we remember the anguish of a shattered heart Point Blank. 
Considering for a moment Pink Cadillac as a euphemism for a vagina, I wonder what Cadillac Ranch might be a euphemism for (long and dark/shiny and black). No matter, I'm a Rocker and can roll with it. 
Just when our hearts are really pumping, the Boss slows it down to remind us of the pain of losing something we wanted to hold onto, but had to let it Fade Away. Perhaps like the desperate man with a Stolen Car we, too, have been at the end of our proverbial rope at one time or another.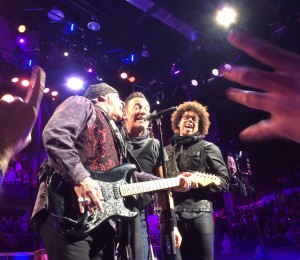 After contemplating the seriousness of life, it's time to do some dirty dancing in Ramrod and watch the band shake their booties (some are better than others). At the end of the day, however, you have to live with the choices you make because it's The Price You Pay for the chances you take. 
Again we find ourselves mourning a lost love and we pledge to Drive All Night and do anything – even buy some shoes – for the one we love. 
Imagine for a moment bearing witness to a terrible Wreck on the Highway, maybe even trying to help. Later you can only think of the one you cherish and pull him close in the night because you can't imagine your life without him.
With the story of The River complete, Bruce launches into more songs and stories with the crowd following along every step of the way. Feeling the crowd's energy Bruce becomes electrified. Looking out into the pit, he spots a mother and son waving a sign. Bruce reaches his hand out to the birthday girl, brings her onstage, and they begin Dancing In The Dark. 
It's a night when bonds are shared and wishes come true.
Want more Bruce? Visit backstreets.com for a full review of the 34-song, three-hour-and-15-minute show.
Meet Me in the City
The Ties That Bind
Sherry Darling
Jackson Cage
Two Hearts
Independence Day
Hungry Heart
Out in the Street
Crush On You
You Can Look (But You Better Not Touch)
I Wanna Marry You
The River
Point Blank
Cadillac Ranch
I'm a Rocker
Fade Away
Stolen Car
Ramrod
The Price You Pay
Drive All Night
Wreck on the Highway
Night
No Surrender 
I Wanna Be With You
I'm Goin' Down
Badlands 
Because the Night
The Rising
Thunder Road
* * *
Born to Run
Dancing in the Dark
Rosalita (Come Out Tonight)
Tenth Avenue Freeze-out 
Shout