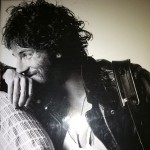 What I learned from Bruce Springsteen about fear comes from listening to his music, watching his theatrical performance onstage, and lots of deep discussion about song lyrics with fans (most notably my husband).
"Fear's a powerful thing," wrote Springsteen in the song Devils and Dust as he wrestled with his feelings about the war in Iraq. Like his character – an American soldier in Iraq – Springsteen was experiencing a crisis of faith in the wake of death and destruction following 9/11/01: What if we destroy our ideals?
Now those memories come back to haunt me, they haunt me like a curse. Is a dream a lie if it don't come true, or is it something worse?
– Bruce Springsteen, The River
Writing about his feelings is something Springsteen's been doing for 40 years – and he's pretty good at it. He creates characters from something he's afraid of: losing faith, falling out of love, rejection, growing old, debility, death, loneliness, and going crazy. He obsesses about his fears, names them, and gives his fears a voice so that he can release them. Once released, his fears can't control him anymore.
You've got to learn to live with what you can't rise above if you want to ride on down in through this tunnel of love.
– Bruce Springsteen, Tunnel of Love
The world is bigger than any one person and her dreams, broken or not. Springsteen fans already know about his ability to speak the truth through his songs, because his songs are autobiographical. During Springsteen's induction into the Rock and Roll Hall of Fame, Bono said, "the tabloids could never break news on Bruce Springsteen. Because his fans … he had already told us everything in the songs."
Now you're scared and you're thinking that maybe we ain't that young anymore.
– Bruce Springsteen, Thunder Road
Springsteen's songs are a study in fear. Springsteen tells The New Yorker's David Remnick as he embarks on the global tour for his latest album Wrecking Ball that with all artists, "because of the undertow of history and self-loathing, there is a tremendous push toward self-obliteration that occurs onstage."
When I look at myself, I don't see the man I wanted to be.
– Bruce Springsteen, One Step Up
After a prolific and successful career in music, Springsteen still has fear and doubt. He says that it keeps him awake and alert. Springsteen, 62, shared that piece of advice with a group of young musicians at SXSW earlier this year. He delivered a keynote address about the musicians who inspired him to start making music and keep at it. From Elvis, to Roy Orbison, to the Animals, to Woody Guthrie, to James Brown, among others – the list is long and interesting. If you're curious about it you can listen to it here.
Fear pushes you away from the things you love. It's controlling. It shakes your faith and imprisons your ego. When you call it out on paper or by its name, however, there's a release, and your fear no longer has a hold over you. I guess the most important thing I've learned from Springsteen is to face your fears; only then can you be truly free.
How do you face down your fears?
Thanks for reading. If you like this post, please feel free to share it with your friends or send me a comment at Send me an email. You can also post a comment on my blog or Facebook.
More song quotes from Springsteen
God have mercy on the man who doubts what he is sure of. – Bruce Springsteen, Brilliant Disguise
In a restless heart the seed of betrayal lay. – Bruce Springsteen, Cautious Man
Sky of blackness and sorrow, sky of love, sky of tears. Sky of glory and sadness, sky of mercy, sky of fear. – Bruce Springsteen, The Rising

Poor man wanna be rich, rich man wanna be king, and a king ain't satisfied until he rules everything. – Bruce Springsteen, Badlands
It ain't no sin to be glad you're alive. – Bruce Springsteen, Badlands
I got a house full of Rembrandts and priceless art, and all the little girls they wanna tear me apart. – Bruce Springsteen, Ain't Got You
They wanted to know why I did what I did. Well, sir I guess there's just meanness in the world. – Bruce Springsteen, Nebraska
At night I wake up with my sheets soaking wet and a freight train running through the middle of my head. – Bruce Springsteen, I'm On Fire

Time slips away and leaves you with nothing, mister, but boring stories of glory days. – Bruce Springsteen, Glory Days
At the end of every hard earned day people find some reason to believe. – Bruce Springsteen, Reason To Believe
She kissed me just right, like only a lonely angel can. – Bruce Springsteen, Spirits In The Night