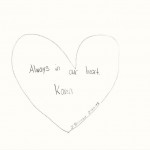 The line: "Dear God, love me a little less" is one of my favorites from the movie Evan Almighty delivered by the inimitable Steve Carrell. I tend to invoke this line, whenever I'm feeling pressured by a deadline, scrambling to find care for James, or worried about a loved one's health. I know God loves me, and I like to believe that instead of granting my prayers, He gives me the opportunity to work on a special project in one of my many roles – mom, writer, wife, daughter, sister, or friend. Over time I've received the opportunity to practice patience when James is working my last nerve after eating a lot of sugar, the opportunity to spend time with my mom who was diagnosed with breast cancer in January, and the opportunity to take my dog Beck for a walk along the canal path that I once walked with my dear friend Karen.
Today, this line gives me pause. It's a bittersweet day as I reflect on the 20 years that I've known Karen. She died yesterday from ovarian cancer in a hospital room with her loving family by her side. I'm blessed that I had the opportunity to hold her hand and speak to her in her last few hours on earth. Her vacancy is still raw and my emotions are a sad jumble of inarticulate words.
We shared so much more than I can capture or even remember. I met her when she worked in the membership department of the Memorial Art Gallery. It was 1993 and I was a volunteer on the First Fridays committee. Together with many other volunteers, we planned more than 60 parties over 5 years, and helped to raise more than a quarter of a million dollars for the venerable institution. It's amazing what beer, food, and music can do in attracting a 20-something crowd to visit antiquities and modern art. I remember counting money in the chapel of the Cutler Union on many occasions. Karen and I were inseparable during those nights. I always made her recount the cash because I was never any good at counting money, especially after having a few beers.
Karen always kept her cool and calmed me on many occasions when I got ticked off at lazy volunteers who promised to get underwriting and then dropped the ball. However, I can't recall a time when I saw her angry with anyone. She never had a disparaging word to say about anyone. She was diplomatic, poised, and gracious. She knew practically everyone and always introduced me to new people. We stayed friends and kept in touch. She'd suggest new places to go out to lunch or dinner around Rochester, and often they'd become my favorites.  I remember taking walks along the canal, eating frozen yogurt and working out with her at Midtown Athletic Club. She was the one who got me involved in something active, social, and good. She got me to try yoga and zumba. Yoga, I loved. Zumba, well not so much, but we moved and shaked our bootie together and I avoided looking in the mirror at my two left feet. But Karen didn't care and we'd laugh about how silly we looked and who really gave a rat's ass anyway. Life was good. When I decided to go back to work after a 5-year-sabbatical-with-baby, Karen gave me pointers on improving my resume. She introduced me to her colleague Jay at Al Sigl Community of Agencies and he gave me a shot at an interview with Rochester Rehabilitation. I got the job and have Karen to thank for it.
After her first surgery in 2011, I brought Karen dinner. We sat and talked for several hours on her deck that hot summer evening. She lamented about the humidity because it frizzed her crazy red hair. She had been to a cancer support group and ordered a wig, knowing she'd lose her hair after she started chemotherapy. The wig had the kind of hair she had wished for: shoulder-length, straight with a slight bounce. Several months later she ditched the wig, and showed up at my door looking svelte and happy with her new deep reddish-brown, stylish curls. She had a sparkle in her eye because she was cancer-free and back to doing work that mattered.
When the cancer recurred last year, I was angry. Cancer sucks and it wasn't fair that she had to go through this. I had just turned 46 and she was one year younger than me. Karen had to endure another surgery and more chemo. One day we walked and talked along the canal path, her pace was slower than I previous walks, but she laughed and smiled and listened. She was always a great listener.
I met Karen for zumba a couple of times last fall. She was tired, but determined to kick cancer's butt. Throughout her journey, her wonderful sister Kelly continued to keep me and many others updated through a great site called LotsaHelpingHands.com. I read all the updates and comments. Occasionally, I would post something. Karen and Kelly would read everything. Last November when Karen stood to accept an award for Outstanding Philanthropist, I was so proud of her. I cried at the lunch table. She was tired and felt like she had a cold, but when she smiled the room lit up. I will always remember her beautiful smile.
Yesterday, my son James gave me a drawing and a hug, and said he was sorry about my friend Karen. Karen came into my life for a reason. She brought me joy and friendship. She taught me how to laugh at myself and enjoy the little things in life even when they seem ridiculous.
And when I wish that God would love me a little less, I'll think of Karen and know that I had the greatest opportunity that God could have given to me: her friendship.
Peace, Karen.