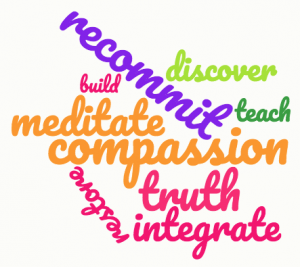 Each year I have a ritual of choosing three words to guide me. Selecting three words helps keep me focused on goals I want to achieve and habits I want to start in the new year. Last December, I came up with my three words for 2017 – and then life got in the way. I haven't looked at them until now.
This Lenten season, commencing March 1, gives me pause because it is a chance to hit the restart button and begin a new practice, habit, or ritual. Lent presents a new beginning – 40 days to a certain goal of Easter, Christ's victory over death. Regardless of our faith, we can all learn something new from Lent.
Why not embrace this opportunity of 40 days to recommit to myself, body, mind and soul? 
Like snow falling on feathery spruce, or witnessing a blue moon, our lives are temporary. We waste so much of our lives worrying about averting death, trying in vain to extend the death of our bodies with food, exercise, supplements, medical treatments, and crossword puzzles that we forget to care for our souls. Soul is the immortal spiritual part of being human. What good deed or action – karma – did we perform today, and for whom? Did we sit in stillness, reflect, or observe? Did we transform wasted time into important moments? 
For me, the next 40 days present an opportunity for renewal. My three words are:
Recommit

Compassion

Truth 
I will recommit to my personal happiness index — doing things that make me happy. For example, writing and publishing this blog makes me happy. More things that make me happy include: practicing yoga, riding my bike along the canal (when it stops snowing), playing tennis, meditating, listening to music (and occasionally singing out loud in the car).
I will strive for compassion when I am in the presence of others by walking a mile in their shoes to identify, empathize and gain perspective.
I will speak up and speak my truth in a transparent, authentic and sometimes vulnerable way. I might not be right, but I will be real.   
Do you have three words you'd like to share? Let me know!
What do you think?
This is my best work today. Thanks for reading. If you like this post, please feel free to share it with your friends or send me a comment. You can also post a comment on my blog or Facebook, or tweet me @kristinebruneau.