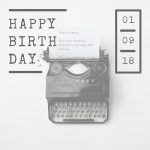 Last year I wrote a letter to James: 15 lessons for 15 years. When I sat down to write this year's letter for this 16th birthday, I didn't know where to begin. I wondered if I had anything more to add to my list of lessons. Once I started writing, I found I had a few more things to share. Writing this letter became another act of letting go of my teenager.  Here it is: Enjoy!
Dear James,  
You are sixteen forever, strong and sweet.
You are my best work.
Today and always, remember to trust your gut
And lead with your heart.
Show up everyday, prepared – even when you don't want to.
Work harder to change the storyline in your head.
Stay calm and present when life seems overwhelming.
Don't forget to breathe.
Have faith in yourself and forgive those who don't get you.
They don't understand and they never will.
Keep moving forward with kindness and compassion.
Hold hope for those who can't.
Confidence means knowing yourself and
Fearlessly expressing your potential.
You told me: Everyday is your birthday because you get to work on your dream everyday.
Keep doing what you're doing. I believe in you!
Love, 
Mom
Have you written a letter to your child, lately?
This is my best work today. Thanks for reading. If you like this post, please feel free to share it with your friends. Follow me on: Facebook, Instagram (@kristinebruneau),  Twitter (@kristinebruneau), or Pinterest.