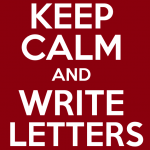 Did you know that April is National Letter Writing month? In looking at a list I downloaded to jump start some news ideas for clients, I discovered that April is a month to celebrate poetry, pecans, and humor. It's a month of awareness for alcohol, stress, and workplace conflict. It's also the month of the young child. Most importantly, April is the month to write notes and letters to friends, family, politicians, and strangers. The idea, I believe or  read somewhere, is that this month-long event was created to promote literacy, stay in touch, and celebrate the art of letter writing.
Isn't it ironic that just a few days ago, Rob and I wrote a letter to James? We wrote the letter to remind James to trust and believe in himself as he took the New York State ELA core competency test. It was his teacher's idea – and a good one. She wanted to help her students avoid getting stressed out on exam day. She believes the kids' daily effort, behavior and attitude are much more important than any test. I couldn't agree more.
However, I found that trying to write a brief letter of encouragement to my son wasn't easy.
Author and humorist Mark Twain is often misquoted with the line: "I would have written a shorter letter, but I did not have the time." This was actually written by 17th century French mathematician and religious philosopher, Blaise Pascal (Pascal's law). In his memoirLife on the Mississippi, Twain wrote: "We write frankly and fearlessly but then we "modify" before we print." (I'm soooo guilty of this.) I thought about all the letters and cards that James has written for my birthday, Mother's Day, and to apologize for something he did wrong – and I discovered a few lessons:
1) Write the first things that come to mind; they often come straight from the heart.
2) Don't edit yourself, unless you spell a word wrong. (James is a bit of a spelling snob.)
3) Be brief. Letters like speeches need not be long-winded. You'll lose your audience.
4) Print neatly. Handwriting is nice, but not everyone can read yours (and mine).
5) Use clean paper. White paper is James' paper color of choice, but any color or type (including note cards) will do as long as it's free of food stains.
6) Draw a picture of a heart, flower, animal, or whatever – it doesn't have to do anything with your topic, but should make the recipient smile.
I was inspired! Not only did I write James a letter, but I began to write letters to my friends and family – some of which I have not yet mailed. (Fear not; eventually I will get to a post office box.) Thinking of you letters. Thank you letters. Sympathy letters. Letters of reflection. Letters of encouragement. You get the picture :).
Letters heal and letters rejoice.
Once you get going, letters are not only fun to write, but even more fun when they are shared. Interested in writing a letter or two? Check out Letters of Note. It's my "dirty little secret," and a terrific site to read letters, notes and other correspondence from famous people.
What do you think?
Thanks for reading. If you like this post, please feel free to share it with your friends or send me a comment. You can also post a comment on my blog or Facebook.