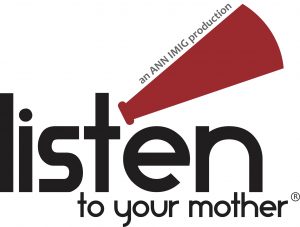 Often called the "Ted Talk of Mothers," the nationally acclaimed series Listen to Your Mother (LTYM) is returning to Rochester for a one night only performance at the Rochester Lyric Theatre Saturday, May 12, at 7:30 p.m.
Listen to Your Mother has quickly become a tradition for many Rochestarians and is a wonderful opportunity to come together and celebrate motherhood on Mother's Day weekend.  This storytelling event is one of the best experiences I've had a pleasure to be a part of – both as an LTYM Rochester cast member in 2015 and attendee.
Last year, I went to Listen to Your Mother with friends – one of whom is also a former cast member. Beneath the beautiful Palladium ceiling at the Lyric Theatre I witnessed 13 brave souls step up and share their stories. I laughed, cried and applauded the courage and vulnerability of each woman.  I was glad to walk a mile in her shoes.
More than 2,000 people have witnessed nearly 40 live motherhood stories in Rochester during the last four years. Proceeds from past events have helped to raise more than $24,000 for local charities. In 2018, all LTYM Rochester ticket proceeds will directly benefit local non-profit  Society for the Protection and Care of Children (SPCC), which supports women and children.
If you were hoping to audition for a slot in this year's cast, you are out of luck. As of now, all 41 slots on the sign-up site are filled.  However, you can submit your name to get on a wait list in case a slot opens up. To sign up for ticketing and show updates, visit: Roc the Mic .
This is my best work today. Thanks for reading. If you like this post, please feel free to share it with your friends. Find me on: Facebook, Instagram (@kristinebruneau),  Twitter (@kristinebruneau), or Pinterest.