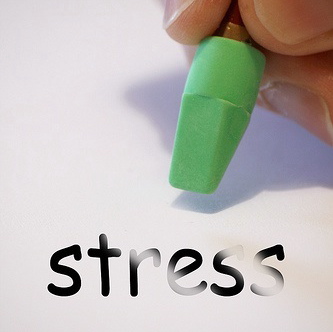 I've been feeling stressed, on edge, riddled with angst. I know this because I've been clenching my teeth so hard my jaw hurts, my throat is sore, my posture sucks, I'm foraging for sweets, and my puppy just ate his poop.
Projects are piling up at work and home, and I have to light a match (a.k.a. hillbilly air freshener) because it smells like poop in my house. I just can't sit still.
Breathe.
Interestingly, I discovered on the last page of my Fast Company magazine, that April is National Stress Awareness Month. (Ironically, it is also Alcohol Awareness month. I wonder if there's a connection?) I love what Fast Company did to illustrate the many numeric quirks related to stress. (Click on the photo to see a larger image.)
I know others of you are feeling stressed out, too. Whatever the reason for your stress – feel free to add your own to my list – I think what we need is a sabbatical from unnecessary self-restrictions and false guilt burdens that we carry around with us as navigate this thing we call life.
One minute sabbatical
If business leaders, educators and employees can take a planned month or year long leave from their work to travel, research, volunteer, climb mountains, or whatever, then why can't I take a sabbatical from life? Even if it's only for a minute.
At home we own the book: Quiet Mind: One Minute Retreats from a Busy World by David Kundtz. Rob first discovered it at our friend's office (she owns Heart & Sole massage therapy and wellness). It's a great little book that offers words of wisdom and encouragement. It also reminds us to stop and breathe so we don't worry ourselves to death.
OK, maybe I won't just prop my feet up and stuff dark chocolate in my mouth all day. Instead, I'll keep practicing one minute retreats to quiet my mind and chill. Small moments can make a difference.
What do you think?
Stress-reducing mantras

Repeating mantras help calm me. So do lighting matches, burning incense and napping in the middle of the day. Here are some of my mantras for stressful days:

I will do one thing at a time.
I will finish what I started.
I know what to do.
I give myself permission to stop.
Soften
Breathe
Count to ten. Hold your nose.
Share your mantras with me and I'll publish them here.