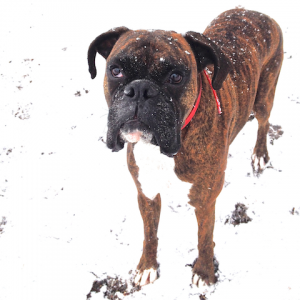 Who doesn't want a Snow Day? Sure it messes up your grown up schedule, but I think it's worth it to see the joy on my child's face when I announce "It's a Snow Day!"
The spoon rests beneath James's pillow; the ice cube long since flushed down the toilet – a Snow Day ritual and oft-discussed legend among school-aged kids. More ice was left on the floor and melted into a puddle, which of course I stepped in before following James upstairs to bed.
"I hope tomorrow is a Snow Day," he says before snuggling beneath the covers.
"Me too," I say and hold his hand.
On a Snow Day, as the wind howls and blows outside our door, we'll wrap ourselves in fuzzy blankets and sip hot cocoa by the fire. We'll light a cinnamon candle and play a game of Clue. On a Snow Day, we'll stuff ourselves into our snow gear and bravely venture into a frozen world. We'll make snowballs and throw them for Beck to pounce and chew. We'll grab our sled and zoom down the hill, toppling over  and rolling into messy snow angels and then repeat again and again. On a Snow Day, we'll laugh until our cheeks hurt and tiny ice balls stick to our eyelashes. Soon, the warmth of our home will beckon us. We'll peel off our layers and leave them in a heap on the floor, racing to the comfort of flame and appeal of chocolate.
As I write this on the eve of our Snow Day, snow falls heavily on the land. Across the street, a plow pushes the sticky whiteness into hills of meringe. And I savor the moment of a Snow Day.
What do you think?
Thanks for reading. If you like this post, please feel free to share it with your friends or send me a comment. Don't forget, you can also post a comment on my blog, like it on Facebook, or tweet to your followers.