Life with Beck is an occasional series chronicling life with our puppy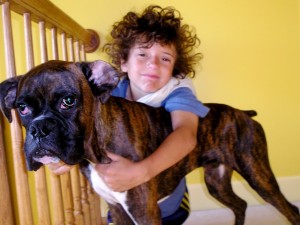 On March 15 I wrote: It's 7:29 am on the third day of life with our new puppy. I can't believe he's still asleep.
James and Beck are sleeping together for the first time in the same room, on the same bed. I don't have the courage to check on them, yet. I haven't heard a thing all night. I only wish I had a hidden camera.
Rob and I went through our nightly rituals of pajamas, bathroom, and reading. And then we tucked James and Beck into bed. We kissed them good night. And we shut the door, hoping we would not be torn from our slumber in the dead of night with yips, cries or howls.
It was my idea to try the new sleeping arrangements it out. After all, what could happen that we haven't already lived through twice before?
Both of our previous boxers were crated at night. It was awful. The howling, whining, clawing to get out. The first night with our new puppy, Gunnar, I slept downstairs next to the crate and got no sleep. The next night, I put in earplugs and went to bed with a guilty conscience. I didn't want to sleep with a puppy that couldn't hold it, or awoke in the night ready to play. After about a week he settled down, resigned to the idea that he was going to remain in his metal cage all night long.
By the time we added Ruby to our family, Gunnar had long moved into our bed. So, Ruby spent her nights in the crate. After several noisy nights, however, Gunnar couldn't take it and moved to the couch downstairs to keep Ruby company. She still wasn't happy, but eventually quieted down.
Sleepless nights were a distant memory, and I did not relish the thought of revisiting them. Since James was willing, we created a new dogma.
Today, Beck is 7 months old. It's 7:29 am and he's still sleeping in the same bed with his 8 year-old buddy.
Life is good.