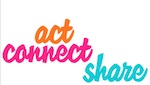 I wanted to share with you my three words for 2013, but first a question. Have you seen the overdone phrase: New Year, New You? It's turned up in email headlines, search results (about a billion), and magazines. Amazon wants you to buy stuff that will help you kick off your New Year's resolutions. Real Simple Magazine wants to help you start the year off right by making small, manageable changes to your lifestyle – and ultimately buying their magazine. Manilla wants you to get you s#!% together by organizing your accounts and bills online with them, for free.
It irks me, but I suppose that this headline works in attracting people interested in losing weight, getting fit, getting organized, improving money management skills, or learning something new. And I guess I fit that profile. Well, enough of my rant. You may recall that in 2012, inspired by Chris Penn's 3 words, I came up with three words to help guide me for the year. The results?
1. Amplify. In 2012, I became my own boss as a free agent writer and marketing consultant, revamped my website, increased my understanding and knowledge of storytelling and copyblogging (a combination of copywriting and blogging), won an award, took on new and interesting projects that accomplished objectives and met new and interesting people, many who are on a similar path as me.
2. Visualize. Every morning (well, almost) I spent time with myself writing, reading, stretching, thinking, and reporting on my goal achievements. I'm a goal setter. I believe that when you follow a goals process your effort pays off. I have a system – Pick Four
–  that anyone can use. It's not hard, but it does require three steps, which can be uncomfortable: 1) accept that goals create effort that pay off; 2) choose a few (like, four) goals you're willing to work towards and 3) stick with the program no matter what. Like me, you may realize that you really didn't want the thing you thought you did (for example, save money for a trip to Europe) and replace it with another goal you're willing to work towards (like getting rid of seasonal allergies, which required two kinds of medications).
3. Create. I'm blessed that I create my art with confidence and gratitude everyday. I revamped my website last January and continually fiddle with it in the hopes of making it better. I reworked my book proposal and manuscript, but missed my self-imposed deadline. I started a children's picture book project with my Dad. I began writing for Rochester Woman Magazine.
This year my three words are: Act. Connect. Share.
1. Act. I will act on my ambitions and grow my author platform. Someone wise once said that logic alone is not enough to change an emotion, but action will.
2. Connect. I will seek and connect with new, different, and inspiring people.
3. Share. I will share what I've learned by using the tools and technology at my fingertips, and some old school ways, too. Each month I'm sharing my 100 Word Book Reviews with readers of Rochester Woman Magazine. You can read January's installment on page 53 here.
Bonus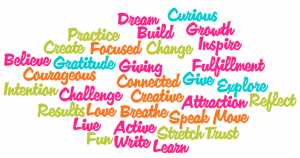 An inspiration wordle to inspire you. I took the words that readers sent me last year, plus mixed in a few of my own that were lounging about and created a word cloud just for fun. (I know it sounds geeky.)
Here's a challenge: take a look at what you've done in 2012 and come up with your own three words to help set you on the right path and attract what you want. Don't forget to let me know what you've come up with.
What do you think?
If you like this post, please feel free to share it with your friends or Send me an email. You can also post a comment on my blog or Facebook.