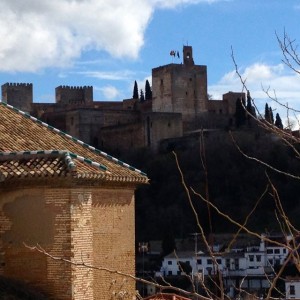 When the plane touched down in Rochester, NY, I immediately felt deflated and melancholy. Days after returning home from our trip to Granada, Spain, I still couldn't shake the weighted-down feeling. My energy was at an all-time low. I felt that my "old" life had became predictable, burdensome and unsatisfying.
Perhaps it was the lack of sunshine I mourned (or lack of olives and wine). Or maybe I missed the bustle of activity with a group of people I came to love. Experts call the crash after a high, post-vacation depression, and there are all sorts of ways to help people like me overcome the melancholy feeling I was experiencing. Some ideas are complete rubbish (like manage your restlessness), while others are helpful (keep sharing). But I'm not looking for a cure, just a way to remember and get back to "happy." One of my favorite ways of working through problems is to write about them.
Here are seven reasons why I love (and miss) Granada, Spain: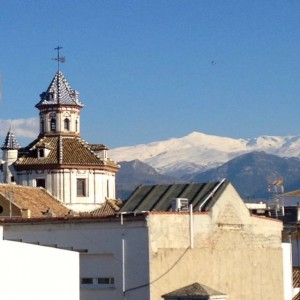 7. Coffee with Sierra Nevada and friends
Upon waking in Granada, my only desire was to drink a cup of strong, hot coffee and gaze out the window at the snow covered Sierra Nevada. Invariably our friends Antonio and Maca would join Rob and me in their kitchen. Gathered around the small table, we would discuss the day's plans, or reflect on the previous days excursions. Lara and Tim would rap on the door and join us for some desayuna (breakfast) of toast with a touch of honey and olive oil. After Antonio and Maca readied  their eight-year-old son Nacho for school, we'd head out on our daily adventure.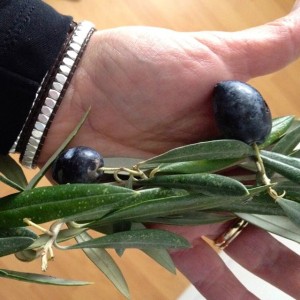 6. Olives and extra virgin olive oil!
One day as the boys visited school (much to their chagrin), the grown ups learned about the infamous olives and olive oil of the Andalusian region. A short drive from the city of Granada led us up a mountainous, muddy road to see, smell and touch the olive trees growing on the farm of Antonio's family. Rows upon rows of olive trees greeted us, however, the fruit had already been plucked and carried off to Nuestra Señora de los Remedios – a cooperative olive processing facility dedicated to the making the very best extra virgin olive oil. More than 700 farmers send their annual harvests to the facility, which meticulously processes and bottles the oil – a pillar of the Mediterranean diet. Later, while I savored my olive expedition, the boys grumped that their visit to Spanish Secundaria or high school was boring.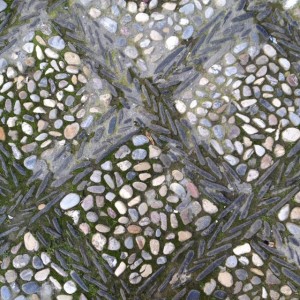 5. Walking Granada's stone and mosaic streets
There are many wonderful historic and interesting places to explore and fall in love with throughout the city of Granada. What better way to see the rich, pulsing culture than through the eyes of someone who has lived here for many years?  One morning, Lara and I followed James's host mother Ana as she guided us through the city center where we experienced a symphony of the senses. Ana pointed out the magnificent baroque Cathedrals built over an ancient mosque, the infamous Royal Chapel, which doubled as a Gothic mausoleum, many monuments and other diverse architectural delights. 
As we strode by orange and lemon trees, which gave off a faint citrusy aroma, Ana took us uptown to the ancient quarters of Granada called the Albaicin. We knew we were entering a different part of the city as the pavement changed from cobblestones to the decorative "empedrado grenadino" – a mosaic technique of wheat-shaped patterns unique to the artisan-loving Moors.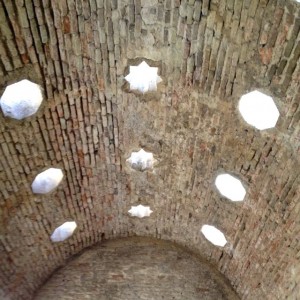 4. Exploring the ancient Albaicin
Located at the foot of the Alhambra is the Albaicin (al-by-theen), which is a neighborhood of cobbled streets, steep walled inclines, and secret nooks that hint at the ancient Andalusian lifestyle. A feast of hidden and breathtaking views surrounded us. Tucked behind a facade in the street was El Banuelo, one of the oldest and best-conserved Arab baths to survive the destruction of Granada by the Catholic monarchs. Ana regaled us with the historic and artistic significance of the bath – an essential part of Muslim custom to bathe before prayer. I could feel the energy beneath the star-shaped windows in the roof that allowed in sunlight. Ana, a profesor of Fine Arts at the University of Granada, had curated a unique ephemoral and contemporary art celebration staged throughout the city of Granada in 2011. One of the places that artists came to create their work was the very bath we stood in.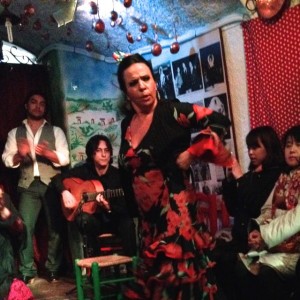 3. Experiencing flamenco dancing by gypsies
Gypsies are not the wandering thieves many people conjure in their mind's eye. In Granada, they are artists – and savvy business owners. Carved into the skirts of Valparaiso (paradise valley) hill are the whitewashed caves of Sacromonte where gypsies live and dance flamenco. Flamenco is a dance that unfolds a story with eye and facial movements. The dance we witnessed one evening made crazy-fast use of castanets – its rhythm is flamenco's bedrock, which also involves intricate, percussive footwork reminding me of Riverdance and oddly, fútbol.  There are few words to describe flamenco– watch the video.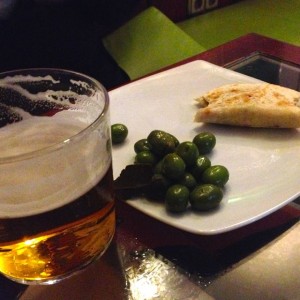 2. Tapas.
While tapas is a widespread custom throughout Spain, in Granada these small servings of local dishes are served free of charge whenever we ordered a beer or glass of wine. This tradition involves an unspoken understanding between the bartender, who selects the tapa for you. While in Spain, I became a flexitarian, opting in for the tasty multicultural cuisine, which involves a lot of ham (jamón).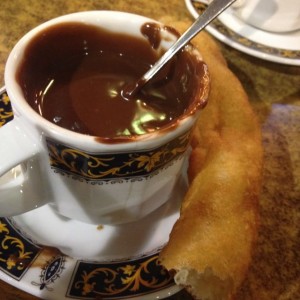 1. Churros and chocolate.
Churros are long, spiraly, deep fried dough. They are golden on the outside with a slight crunch that gives way to a soft middle. And are best eaten with hot chocolate. We met our Spanish friends one evening in the Bib Rambla square at a churrería or café that specially prepares fresh churros. The Spanish hot chocolate I had was as thick as pudding and ideal for dipping the churro, (rather than drinking) and savoring it in all of its fried glory. You haven't lived if you haven't tried this Spanish delicacy. 
Although I listed seven reasons why I miss Granada, I would be a bit remiss if I did not at least mention fútbol (soccer) since it is the most popular sport in Spain and near religion to some fans. I'm not in that category, but after experiencing Spain, I can understand the fascination and fanaticism. Fútbol is more than a sport, it is a culture. While my son played fútbol, I discovered commonalities with other parents around work-life balance, cooperation, diplomacy, patience, and respect. Before, during and after fútbol became a celebration – preparing meals, trying new food, meeting friends at a teteria (Arab tea house), rooting around Moorish craft shops and stalls, visiting the Science Park, and climbing from rooftop to rooftop to enjoy various views of the city. 
Everyone, I realized, sees the world differently, or through their "mind's eye." The way we see things as an individual is neither good nor bad – just different. A glass is either half full or half empty. While it's not easy, it is possible to teach ourselves to change how we see the world. We can start by not making assumptions about anything and enjoy the moment.