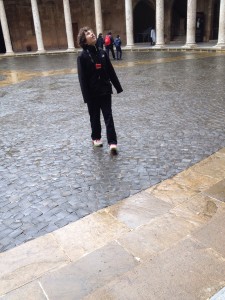 Our merry band set forth one morning to  explore the Alhambra – an ancient web of palaces and fortresses built by the medieval kings of Granada from the 9th through the 14th century. Our tour guide showered us with competent details that unfortunately lacked the spellbinding quality of enchanting tales of love, war and chivalry. Alas for both teens and grownups it proved too much information to digest beneath the gloomy canopy and cold drizzle. Instead the boys made their own fun taking selfies amidst hand-crafted mosaics and geometric tiles, fountains carved from marble, open air courtyards and shivering gardens.
Don't get me wrong, the spectacular Alhambra is an artistic-historical icon that should not be missed during a visit to Granada. It is a surviving testament of the Moors period through the last Islamic kingdom of Spain when the city of Granada was finally conquered by the Catholic monarchs Queen Isabella and King Ferdinand at the end of the 15th century.
I'm travel blogging from February 14-23 here on Mommy Musings and on the Democrat and Chronicle Moms blog. I'll also share photos and videos on Facebook and Twitter.
What do you think?
This is my best work today. Thanks for reading. If you like this post, please feel free to share it with your friends or send me a comment. You can also post a comment on my blog or Facebook, or tweet me @kristinebruneau.