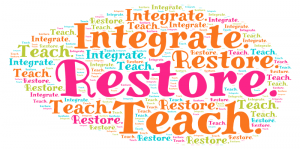 There are many ways to start 2014 well. For the past two years, I've chosen three words to inspire and guide me along the path of achieving my goals. At the end of the year, I reflect on how well these words have helped shaped my efforts. Author and marketing consultant Chris Brogan came up with the clever idea to use words to help focus his goals and efforts.
How to choose your words.
Words can be actions, verbs, or even a number. Words can be anything that's meaningful to you and important in your life. Try asking yourself a couple of questions to help you come up with your words. What disturbs you? What are you afraid of? What do you want that you haven't been able to achieve? Close your eyes and take a deep breath. Exhale. What's the first word that comes to mind? Write it on a piece of paper. Repeat. Sound weird? Maybe even a little superstitious?
Like my son says, "It's only weird if it doesn't work." Oh, hang on, that's the line from the Bud Light commercial that runs during EVERY FOOTBALL GAME. Although I'm not really into football culture, it's a great line and helps me make my point.
Just do it.
Look no further for inspiration than Nike's great tagline: Just Do It. It's been successful in motivating men and women, and selling shoes for more than a quarter of a century. Created by Dan Wieden, founder of ad agency Wieden + Kennedy, the iconic line was inspired by a killer. Gary Gilmore was sentenced to death by firing squad for several murders he committed in Utah in 1988. His last words while strapped to a chair? "Let's do it," Wieden tweaked it and it's become legendary.
My three words for 2014: Restore. Integrate. Teach.
Restore – To take the time to rest and relax deeply and completely so that I can better handle the stress of deadlines, parenting, relationships, and maybe improving my tennis game.
Integrate – To unite everything I know with everything I do. This may sound daunting, but it's really not. I know myself better than I think I do and I need to trust myself to better integrate my skills, abilities, body, breathing, emotions, attitudes, and relationships with my life.
Teach – The best way to learn a concept is to teach others what you know – and make mistakes along the way. I believe in sharing knowledge, but I think it's time I start teaching what I know. Stay tuned.
Here are my words from the past:
2012 – Amplify. Visualize. Create 
What do you think? Let me know what words you come up with, or if you have any other suggestions to help guide your goals and efforts in 2014. 
Thanks for reading. If you like this post, please feel free to share it with your friends or send me a comment. You can also post a comment on my blog or Facebook.