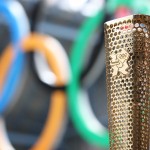 Like many of you, I've been watching the Olympics on television. Time and again, I found myself sighing, squirming, rolling my eyes, and reaching for the remote in response to NBC news commentators' interview questions with Olympic athletes, especially the swimmers.
Perhaps it's unavoidable to state the obvious when millions of viewers have just seen the exact same thing on their screen moments earlier. Then again, news – especially TV sports commentators – seem to have a knack for being direct, rude, employing hyperbole and invoking tired clichés. Often, I wish that someone would state a question or comment in a fresh, new way. If you think it sounds stupid, it probably is, and I think the American viewers deserve better. So, I've come up with ten highly original questions, that I'd ask an Olympic swimmer after they've just won gold.
Just for fun:
1. How many times did you pee before getting into the pool?
2. What did you eat for breakfast?
3. What song did you listen to just before the race?
4. Is that bathing suit comfortable?
5. Are you always this breathless?
But seriously:
6. What was the last piece of advice your coach said to you before you competed?
7. Do you have a word or mantra that you say to yourself when you're competing?
8. What one or two things did you do in your training that helped you to win today?
9. Do you hear the crowd roaring when you're swimming?
10. What would you rather be doing right this second (rather than standing answering these questions)?
What do you think?
Thanks for reading. If you like this post, please feel free to share it with your friends or send me an email. You can also post a comment on my blog or to my Facebook page.