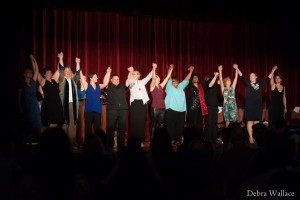 If you've signed up to audition for Listen To Your Mother (and aren't sure what you got yourself into), I have six tips to boost your confidence for your best Listen To Your Mother audition. As a Listen To Your Mother Rochester alum, I know that even if you're a little hesitant about signing up and reading your work aloud, you have nothing to lose and everything to gain.
Listen To Your Mother starts with a true story on the theme of motherhood. Add a bit of courage and you're ready to share your true story with the organizers who are casting for the second annual Listen To Your Mother show in Rochester.
Your first step is to sign up for an audition – at Writers & Books March 6, 10, or 12  – here (follow the prompts to sign up with volunteer spot).
Read on for my 6 tips for getting ready to audition for Listen To Your Mother:
1. Get inspired. 
Check out the stories on YouTube from LTYM Rochester 2015. Here you can get an idea for the tone of your piece, or to spark an idea. Think about how you will connect with an audience. Draw on your everyday life for a rich source of stories. Unsure of where to start? Ask questions like: What did you feel when you first learned you were going to be a mom? How did it feel to see your firstborn shaving? What did you learn from your mom about life?
2. Write with authenticity.
Write a rant, reflection, memory or mom wisdom. Your piece can be funny, deeply touching, or both. Make sure that your story is about some aspect of motherhood.
3. Edit yourself, but not too much.
Now, you have this big, beautiful, true story (or perhaps a shitty first draft). The next step is to whip it into shape. Show (don't tell) how you felt in that raw, vulnerable, imperfect moment that your motherhood story took place. Kill the darlings that don't ring true to your journey. Read your story aloud and shape it until you love it.
4. Practice, but not too much.
Practice reading your story aloud a few times to give you confidence, familiarity and the right amount of time: five minutes. Give yourself a pep talk. Remember you will be reading your story, and not memorizing it like a speech. 
5. Speak in your own voice.
Don't try to be anyone other than you. Do try to enunciate and project your voice. Know this: when you step up to audition you are enough, and your voice is enough just the way it is.
6. It's okay to cry.
While reading my story at the podium, the words made me relive the heartbreak and hope I felt battling infertility. And I cried until I caught my breath and could speak again. Showing raw emotion is what made my story "Tangled In Leather" personal, authentic and touching.
Remember: Write your true story. Practice reading aloud a couple of times. Make sure it's no longer than five minutes. Be authentic. 
The second annual Listen To Your Mother show in Rochester is May 7th at The Lyric Theatre. Showtime is at 7:30 p.m. Tickets go on sale in March.
What do you think? Share your thoughts: on my blog, Facebook, or @kristinebruneau. And don't forget to share and spread this story with your friends. Thanks for reading!