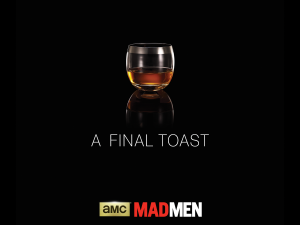 If I were to send a letter to Matthew Weiner – the creator of Mad Men – it would go something like this:
Dear Matthew Weiner,
Thank you for creating one of the best shows on earth. 
I will miss anticipating what's next in the life of Don Draper and watching the cast of characters evolve and express their desires.
My sister-in-law and I have a Sunday evening ritual watching Mad Men, drinking wine (or a Cosmopolitan, or my new favorite: Pimm's Cup) and texting brilliant commentaries back and forth. She lives in Pittsburgh, Pa. while I live in Rochester, NY.
I don't think anyone has to be an expert in advertising or marketing to "get" Mad Men.
Having worked for large and small ad agencies for most of my career, I appreciate the work. However, at its core, Mad Men is a slow-boiling drama about wanting what others have. A simple look or action can change everything.

To me, your Mad Men is a meticulously crafted odyssey about the human condition. Don Draper's life was an illusion created by the broken Dick Whitman who saw a way out of his traumatic life. 
Trauma begets trauma. 
The irony of emotional and physical trauma is that it creates more trauma. Don Draper was wired for a myriad of addictions, which attracted more damaged humans. 
We are living in illusions of what life we think we we want. We all have our demons to fight or give into. What we have one day – love, marriage, life, wealth, and even happiness – can be lost in a flash. You have to work at what you want to achieve. 
Your Don Draper was a brilliant, long-suffering hero who fought his demons everyday in a quest for ultimate peace. 
In the end you gave us hope and redemption, creating a space that allowed us to determine how we want the characters to live on in our own fantasies.
Mr. Weiner, you put on a helluva show. I will miss it. 
Thank you.
What do you think?
This is my best work today. Thanks for reading. If you like this post, please feel free to share it with your friends or send me a comment. You can also post a comment on my blog or Facebook, or tweet me @kristinebruneau.
Related articles across the web