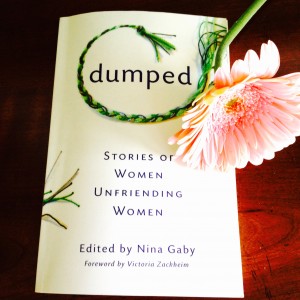 If you've ever been dumped, ditched or unfriended by a woman friend, or girlfriend, then you know how devastating that loss feels. Friendships give us meaning and purpose. When we have our best gal pals around, we feel wanted, trusted and good about ourselves. The relationship with our women friends reduce stress and lift us up. Our friendships are so powerful that if you find yourself suddenly cut loose, the result can be traumatic.
Nina Gaby, editor of Dumped: Stories of Women Unfriending Women
 says that her own experiences with being dumped (several times) served as the inspiration for writing this book. Her hand-picked stories from emerging and established writers give voice to one of the most painful betrayals in life. 
Gaby, a writer, visual artist and psychiatric nurse practitioner (formerly of Rochester) says that women experience trauma when their BFFs ditch them because often there is no closure. Women are left grieving from their loss and can experience confusion, anger, depression, fear and isolation. We are left wrestling with questions such as – Why didn't I see this coming? What is wrong with me? What do I do now?
So how does a woman of any age move on after being dumped? 
"Resillience is key," said Gaby during an afternoon salon of women one Sunday. Look inward. Only through honesty and self-appraisal can we ask ourselves these difficult questions and eventually accept that there is no answer. 
We can also take solace from knowing we are not alone. There is hope. 
My advice? Read this book
. Share these poignant and meaningful essays about friendship and the consequences of broken friendships with the most important women in your life. Maybe – just maybe – you will hold your current friends a bit more closer to your heart.
Essays of Note in

 

Dumped
+ Julie VanDeKreke was dumped from her group in high school simply because she wasn't cool. In "Off the Line" she reveals her pain and her revenge. 
+ Alexis Paige thought she knew everything about being a women from reading her mother's Cosmopolitan magazines when she was ten years old. Her essay "Bridezilla or Chill Bride? Which One Are You? Take This Quiz to Find Out" poionts out her own culpability in being dumped by her bestie.
+ Nina Gaby reflects on the loss of her first best-friendship and a falling out among friends later in life in "Simple Geometry: The Art of War for Girls."
+ "In Since I Don't Have You" Jacquelyn Mitchard, author of The Deep End of the Ocean examines her grief over the loss of an epic friendship, which is no less crushing in middle age than in middle school.
What do you think?
This is my best work today. Thanks for reading. If you like this post, please feel free to share it with your friends or send me a comment. You can also post a comment on my blog or Facebook, or tweet me @kristinebruneau.