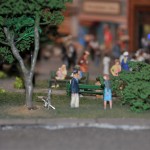 When a group of kids talk too loudly in the hallway at school, one teacher rushes out and in a bold act, punishes the entire group by taking away 10 minutes of recess. You might say to me: "So what?" However, 10 minutes is a lot of time to fourth grader when you only get 30 minutes of outdoor time with your friends.
What is good behavior in school? Obedience? Compliance? Competence? No talking in the hallway after singing practice? Is that how schools generate exceptional learning?
I think taking away recess is wrong.
Recess isn't a privilege. It's essential and shouldn't be used to instill fear. Like healthy food and fresh air, the unabashed ability to run and play is an important part of a child's day at school. Our schoolteachers should figure out an alternative to docking recess like a writing assignment, chores, or some kind of "community" service.
"My favorite part of school is recess," said James. His friends agree. Kids release pent up energy, recharge, relax, and renew. They learn teamwork, they argue, tease, and play some more. And then they all line up to march back to their classrooms to sit for a few more hours.
I think kids sit too much.
The problem with school is that administrators and teachers often put the emphasis on the wrong things. Obedience and competence is praised and rewarded. Questioning and dreaming? Not so much. Elementary school students are afraid of getting a bad score on a standardized test. And so the third, fourth, and fifth graders spend their days and nights worrying about getting the answers right instead of making something fun, exciting, and meaningful like researching and writing a book about NHL hockey teams. Or building a fort.
I often wonder: What is school for?
I'd like to think the goal of school is to raise the standard for rational thought, critical thinking, skeptical investigation and useful decision making. I'd also like to think that school will support my values and help my child to appreciate culture and embrace its differences; encourage him to pick up a book and read just for fun, not because he gets an award); encourage him to stand out and make his own decisions, and not succumb to peer pressure. and help him understand and respect differences in people and belief systems.
I see moments of this shiny goal, especially in Art and Music (where the kids really don't spend enough time exploring), but not consistently. Sometimes the teacher gets it wrong. One time James came home in tears because he knew the English flag was not the Union Jack but the cross. His teacher told him he was wrong and not to argue and move on. Instead, James couldn't let it go. He went to the computer and got proof. He presented it the next day. The teacher apologized (to her credit). James learned the flags of nearly every country in the world that have soccer teams. Just for fun, he makes books about countries. He studies the culture, language, and of course any kind of statistic about World Cup soccer, soccer leagues, soccer players, and more.
I'm worried. What happens when my son reaches middle school and high school? Will he still maintain his creative thinking? Or will studying for SATs and Regents exams kill it? What are those tests for? To get into a "good" college, that will land him a "good" job where the boss tells him exactly what to do? I think those days are gone, don't you?
What if we made school different?
What if we made school a place where learning becomes a choice? What if we made school a place that helps kids become bold, creative, and innovative? If the future lies with our kids, what are we doing as parents to help our kids make our society stronger? I think we need more passion and creativity in this world, and I think school can help.
I don't have all the answers, but I know I'm not alone in asking these questions.
I've been reading a 30,000 word manifesto by Seth Godin. It's called "Stop Stealing Dreams" and it's free to download, read, and share. It's provocative because it makes me question the status quo.
If you take the time to read it, let me know what you think. Send me an email, post a comment on my blog or Facebook.
You don't have to be a parent to care because school belongs to everyone.
P.S. Can you tell what's happening in this picture?