Making a list or two helps me get in the groove of writing.
Making a list also helps me figure out what to do next, particularly when I'm scattered (like now) and in danger of saying yes when I need to just say no. I have to remind myself to pause, prioritize, and focus. And make lists.Lately, I've been making lots of lists in my little notebooks. I make focus lists to help me plan my time around the things that are most important to me, like family, writing, meditation, and movement. I make "hell yes" lists to help me ignore distractions and just say no. No, I'm not going to… answer that email, read that text, check Facebook, or sit through that meeting.  I make lists of topics I want to write about. Ray Bradbury encouraged writers to list ten things you love and ten things you hate and then write about them. I thought I'd give it a try. I looked around my office and came up with the following:
---
Ten I love list
1.  I love a good book, especially when it's read by a great voice actor. I recently listened to The Dutch House by Anne Patchett read by the wonderful Tom Hanks on Audible.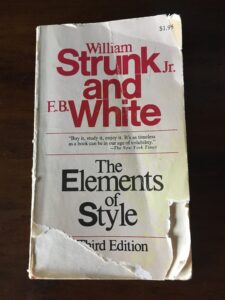 2.  Elements of Style by Strunk and White is an essential and timeless text on the rules of usage, principles of composition, a few matters of form, words and expressions commonly misused, and some advice on style.
3.  I'm a podcast junkie, and my new obsession is listening to Brene Brown's Unlocking Us podcast. It's almost like getting a free therapy session. She pours out her heart out and bares her soul, so you know you are not alone in being anxious or vulnerable. She gushes over guests like Alicia Keyes and nerds out over emotional intelligence with a Texas twang.
4.  Fresh flowers on a rainy day brighten up any room in the house and serve as a reminder that they are fleeting, fragile, and quiet.
5.  Granada, Spain. I can't seem to get this gem of a city out of my head. It has a magical hold over me. I want to once again cut myself off from everyday life to drink in the sights, sounds, and tastes of this magnificent, romantic, and proud-spirited Spain.
6.  There's nothing a good cup of coffee can't fix and Joe Bean coffee has the best coffee beans in Rochester. I've been on their Perpetual Joy coffee subscription list since 2012. I'm a fan of their Guatemala Finca La Florida with tasting notes of cherry, lemon, and a hint of brown sugar with each sip.
7.  Celestial Seasonings Bengal Spice tea smells like cinnamon and ginger cookies and tastes almost like the real thing. I've been steeping two bags at a time in a small pot and bring it to my desk during the day to sip away the April chill.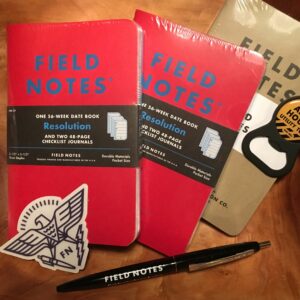 8.  I believe there is a true mind-body connection when I write on paper and my recall is better. Writing in my Field Notes memo books brings me joy. I fill up my tiny notebooks with fleeting thoughts, doodles, lists, and random ideas. They are practical, utilitarian, and beautiful.
9. My dear, sweet friend gave me The Wild Offering Oracle, a beautifully illustrated 52- card deck, each inscribed with an uplifting message. I choose one at random and place it in my little Buddha cardholder (a gift from another good friend).
10. Art. I have a lot of art on my walls. I love the art in my home not only because the people I love most in this world made it, but also because they created something poetic. Looking at art – any art – helps me escape from the mundane reality of life. It also helps me discover an extraordinary glimmer that I hadn't noticed before. Art serves as a reminder of my own struggle for truth, meaning, and passionate self-expression.
---
Ten I hate list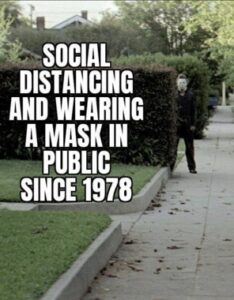 1. COVID-19 is at the top of my list, not only for being deadly and causing so much anxiety and pain, but also for taking away my freedom.
2. Social distancing sucks because I want to at least be near other people. I read that humans are social beings and evolutionarily wired for proximity to each other. So, these new protocols (staying six feet apart, voluntarily quarantining as much as possible) are necessary but still unnatural.
3. Wearing a face mask in public. I wore a home-made face-covering to the grocery store. I made it according to Surgeon General Jerome Adams' video. It's easy enough to make, but it's uncomfortable and hot.
4. The news. It's just overwhelming and too easy to get sucked into watching press conferences and then checking on the number of confirmed cases in the state and county. And everybody seems to be excited to weigh in on what will happen next.
5. Video calls mean I have to shower, fix my hair, put makeup on, look for flattering lighting that doesn't make me look too jowly or shadowy, and wear something other than my favorite hoodie.
6. Hate crimes against anyone. There's no reason to harass push, spit upon and attack someone who is Asian under the false assumption that they are to blame for the deadly coronavirus. We all need to try harder to be nice.
7. Touching dog poop. If stepping in dog poop wasn't bad enough, cleaning up after your dog and having the bag break or not being able to get all the poop in the bag is really awful.
8. Traffic circles make me anxious and fearful that I will forever drive in circles because I can't recall the rules on how to approach and merge properly.
9. Being too cold. I have a space heater near my desk and I always turn on the heated seat in my car because there's nothing better than a seat that's toasty on your buns.
10. Hot flashes. Intense, sudden feelings of warmth rising over my neck and chest send me into a mild panic during the day. At night I sweat and then I get cold. I hate being cold.