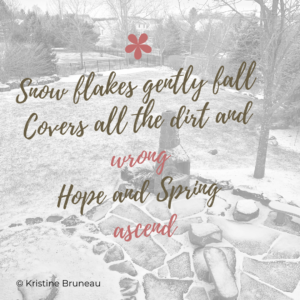 Snow falls gently on a spring day. Like sadness, snow clings to limbs, buds, and blades of grass. Its frozen beauty silences birdsong, and laughter, but also unites the land with hope, peace, and stillness. 
Like everything in life, snow is temporary. Our state of mind, our bodies, our emotions, our desires – all this does not last. Sometimes we are in conflict with ourselves. Other times we are at peace. One thing is certain: everything changes. Once we recognize this, we can let go of our desires and find relief.
This is my best work today. Thanks for reading. If you like this post, please feel free to share it with your friends. Find me on: Facebook, Instagram (@kristinebruneau), or Pinterest.