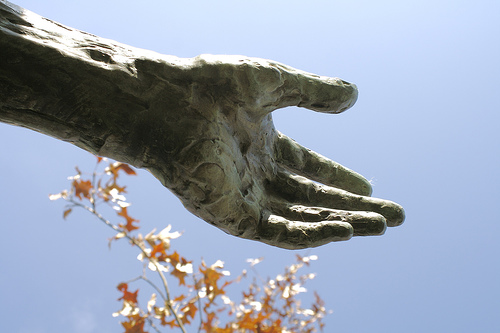 "We can only be said to be alive in those moments when our hearts are conscious of our treasures." Thornton Wilder
My work as a writer and marketing specialist for Rochester Rehabilitation allows me to meet and know many, many amazing people living life aware and in the moment regardless of insurmountable challenges or adversity. Many of the folks I've interviewed these past few years live with chronic medical conditions, mental illness, and physical disabilities. However, they don't let these obstacles stop them from living.
Last Spring I learned about a young man named Bret Hoefen who went through Rochester Rehabilitation's driver training program, DriveOn. Before I could contact him about sharing his story, his health had deteriorated due to a rare and aggressive form of cancer called clear cell sarcoma (CCS), which had contributed to his full leg amputation. He kept a blog – "Ride in a Good Direction" – so that he could share his journey of living. When he first received news of cancer he decided to pursue his dream: to buy a motorcycle, and along with his wife, ride across the country.
I found his writing to be raw and touching. By reading through his posts and pages, I came across a familiar face – Carolina DeHond of Penfield who also has CCS. However, she stubbornly refuses to let it consume her as she fights to survive and search for a cure. I posted a note a few months ago on Facebook about my discovery and also commented on Bret's blog. Not long after that another friend came across my comment and shared how she, too was connected to Bret since her husband worked with him at Ginna.
It's funny, how a story connects us.
I have a passion for reading and hearing stories of people living life on their own terms, or fighting for what they believe in, or helping others. I recently stumbled across an old Studs Terkel documentary, Born to Live, a program of interviews, spoken word and musical responses to the nuclear age. In it, the brilliant Terkel (who ironically confessed his mechanical ineptitude) pulled together seemingly random vignettes of voices to weave a story about lives touched by horror, genocide, discrimination, racism, music, literature, and more. It was an open-ended reflection about people and an exploration of: "Who am I?"
I think everyone has a story to tell, knowledge to share, and a legacy to leave. I hope to share more stories and reflections that explore this, and more. I believe that when we are aware of what we have, we are truly rich. There is no need to seek out more things to make us happy when, as Wilder put it "our hearts are conscious of our treasures."
I never met Bret Hoefen and I never will. He died last Friday surrounded by his family, but through his writings I know that he lived his life the way he wanted: riding in a good direction.
Peace.
Kris