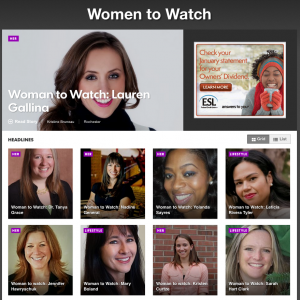 I'm pleased to share that I'm a contributing writer for the Rochester Democrat and Chronicle and its  "Woman to Watch" column. The "Woman to Watch" column runs on Tuesdays, and since I share duties with another writer, my interviews with Rochester women appear about every other week both online and in print.
The Rochester women to watch that you read about are Gen Xers make a significant contribution in their workplace, volunteer with community service organizations to make a difference in the lives of others, and have an interesting story to share. Often these women have overcome an important challenge in their lives that other women can relate to or learn from.
Why not nominate a Woman to Watch today?
How to Nominate a Woman to Watch:
1. Women who appear in the "Woman to Watch" column have been nominated by a colleague or peer and chosen by community content editor Cynthia Benjamin.
2. A "Woman to Watch" is one who is between the ages of 35 and 55 and making significant contributions in her job and in the community. Most of the women profiled are in leadership roles at their workplace and invest time in community/nonprofit organizational boards and committees, or participate in other community activities.
3. To nominate a woman, contact community content editor Cynthia Benjamin with the Democrat and Chronicle Leadership Team, stating who you'd like to nominate, what her job is, where she works, where she volunteers, why she'd be an excellent subject, and how to get a hold of her (email and phone number). You can also send a Woman to Watch nomination to me via email with the subject line: Woman to Watch Nomination.
4. It's helpful (to this writer) when the nominator also highlights one or two unique characteristics about the nominee in the email note. Take a look at past Woman to Watch profiles on the web or my Woman to Watch in #ROC Pinterest board or my Extraordinary Women Flipboard Magazine.
5. We also ask the woman who will be featured as a Woman to Watch to provide a photo, preferably a close-up head shot (not part of a group and no selfies!). The photo should be as large as possible (1 mb or larger) and is one that you're happy  to share in print and digital formats. (SMILE!) So it's important to begin with a high-quality image which means the highest resolution and image dimensions you can get with your digital camera.
My writing process:
+ Once the nomination has been accepted by the editor and assigned, I usually send an email to let the woman know she's been nominated and attach a questionnaire to complete. The answers to the questions give me some background on the woman and help shape my phone interview to clarify and explore the woman's story more deeply as I write her profile.
+ I prefer phone interviews and record them with AudioNote on my iPad. The profiles I write are about 700 words, including the questionnaire, which I edit for publication. So it's important for the nominee to spend some quality, contemplative time filling out the questionnaire. And it's always good to have a trusted friend proofread it.
Tip:
+ It's always a good idea to read any publication you want to submit to. Follow the link to the Women to Watch page and click on a few women to read their profiles and get a sense of why they were featured.
Thanks for reading. If you like this post, please feel free to share it with your friends or send me a comment. You can also post a comment on my blog or Facebook, or tweet me @kristinebruneau.
This post is part of the #YourTurnChallenge. Today is #day2. And it is my best work today.