Occasionally, I find something that makes me smile, and I want to share it with you.
The pig of happiness by Edward Monkton popped up on my iGoogle home page from Google's theme of the day. When I saw the simple, thick line drawing and read the caption, it made me smile.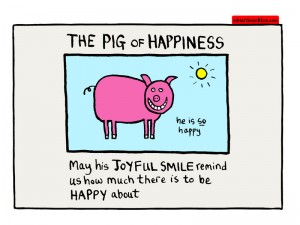 While Monkton's drawing reminded me of some of my eight-year-old's art (see the end of this post), I was curious to find out more.
I searched for the creator and found his website. It's worth a look. There's a video to go along with The Pig of Happiness. The humor is quirky, but fun. There's a gallery of art, prints, merchandise for purchase, more information and free downloads.
His name is not really Edward Monkton
Who is Edward Monkton, I wondered? Who is the man behind the art? Edward Monkton is the alt-ego of Giles Andreae – creator of the successful Purple Ronnie character and greeting card line (that looks remarkably like the Life Is Good stick figure and which he sold for $5 M a few years ago), a best selling children's book author (including Rumble In The Jungle and Giraffes Can't Dance) artist, poet, father and cancer survivor.
Anderson is the man who seems to have it all, beaten the odds, and yet last year he spiraled into a deep, clinical depression. You can read about it  here:
The difference between happy and sad
Andreae's story gave me pause. I was looking for happiness, success and fun, but found something more complex. It reminded me of the thin line we walk between brilliance and gloom, happy and sad, yellow and blue.
A single act, choice, or even genetic code can separate happiness from madness, wellness from illness, joy from pain, imaginative from boring, hope from despair, success from failure.
Sometimes I forget that the simplest things in life can make me happy.
Like Anderson we should all look for the "smiling pig" in everything we do. The pig will remind us that there is much to be happy about. It did for me.
What made you smile today?