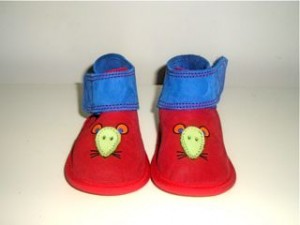 They say (the experts, that is) that one day Ernest Hemingway pronounced to his friends that he could write a complete six-word-long short story. It was a bet that his friends took up. Hemingway jotted down these words on the back of a napkin and passed it around. His story had a beginning, middle and end. Hemingway won the bet.
I think Hemingway's story also had the makings of a great ad headline for craigslist
Except that it needs a price and location. So, it started me thinking: how do I write a convincing ad listing to sell my stuff?
Recently, I've been cleaning and reorganizing my house; getting rid of things I don't use, don't want and don't care about anymore.  I figured that if stuff like Hemingway's fictional baby shoes doesn't fit into my lifestyle, maybe someone else would want it and pay me for it. I've posted several items on craigslist a list of local classifieds and forums that is community moderated, and largely free. It's my first time as a seller and it's been an interesting ride.
How to sell on craigslist
Before you set up an account and start posting baby shoes for sale, here are a few helpful things that I learned and that you should consider:
Identify stuff to sell. Gather all loose parts, receipts, boxes, and any other helpful information. Put them in a designated area.
Clean your stuff. Cobwebs, dust and sticky stuff are a sales deterrent. This helps with number 3.
Take pictures. Front, back, side, detail. Ask yourself, what would I look for in this item? A picture is worth a thousand words and shows someone interested in your item what it looks like. (Techy stuff: Download pictures to computer. Export to small or medium jpeg size (20 kb or less) for uploading to craigslist so it will take only seconds. )
Measure. Find the tape measure and use it. Large entertainment unit doesn't tell me whether my new 32" TV will fit in it. I need dimensions: W x D x H.
Research price. Search what other similar items are selling for or have sold for either on craigslist, ebay, amazon, yahoo groups, etc.
Determine your selling points in terms of features and benefits. The more specific you can be about color, new, used, vintage, brand name, etc. the better. Again, ask yourself, what would I want to know about this item? When you have all your information compiled, you can write your ad.
I've asked some of my friends who have posted and sold items on craigslist and other online sites. The number one thing to keep in mind: buyers are looking for a deal. They don't care that you paid $1,200 fifteen years ago for your antique dining room set. They need a dining room table and chairs in good condition. And they want a bargain. I sold mine for $350.
How to write an ad that sells your stuff
Use your research on price and selling points to describe what you are selling clearly and simply. Use an informative headline and put the details in the body of your ad.
Keep your headline simple. Include words that someone would search on: "Dining room table and chairs," or "Solid Cherry Entertainment Center." Don't use "For Sale" in the headline. We know that already.
Know your price and location. You'll need these two items when you're ready to post.
Write a detailed, meaningful description. Is it new? Never worn? Used? Gently used? Scratched? Missing parts, but workable? Brand name? What else would you want to know as a potential buyer? What size is it? Remember to include measurements. Put in price negotiable or price is firm. I added to my description: Cash only. Please email me with questions and give phone number if interested.
Check your facts and proofread your copy. Verify the ad with your significant other before you post. He may point out any inconsistencies or errors such as the incorrect brand name of your entertainment unit or ski bindings (Thanks, Rob). Also check for spelling errors. And spell out inches. Using quotes for inches come out as question marks.
Example of a recent ad that sold
Kindel Dining Room Table and 6 Chairs – $450

Discovered at an estate sale 13 years ago, this Kindel Milano style solid wood oval table (53 1/2 in. x 43 1/2 in.) has enjoyed many family gatherings. The table opens to insert up to three 16 in. x 43 1/2 in. leaves and sits 10 comfortably, but we squeezed 13. Pads included. Six cane back upholstered chairs – 4 side, 2 end chairs. Nice detailing and wood grain. A great starter set. Please email me with questions and give phone number if interested in seeing. Also selling matching curio breakfront china cabinet. Willing to sell as suite. Cash only. Price negotiable. $450.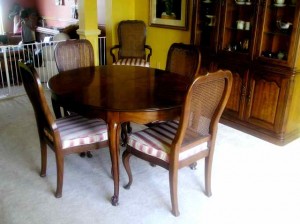 How to post your ad
Visit craigslist, choose your city and click on "post to classifieds" in the upper left corner of the page. Choose "apply for an account" in the upper right corner of this page. While you can post for free without an account, I recommend setting one up. It allows you to  post, edit, delete, and repost without requiring the self-publishing email. Once you follow the instructions, your account will be set up.
Choose  "for sale" posting and pick a category.
Enter your information into the ad form. Hopefully, you've written your ad in Word or on a piece of paper. Copy and paste, or type it in.
Add an image.  I can't stress this enough: always, always, always post a picture or two (up to four) of your item so people can see it. They'll either contact you or move on. Either way, you're closer to making a sale, receiving cash and getting rid of your stuff.
Hit continue and follow the instructions to complete your ad. You can edit your post before its complete. Forget something? You can edit your post from the "manage your account" area at the top left corner of the main craigslist search page.
All you need to remember is PPD
Pictures. Price. Details. If Hemingway's story was really an ad, it would have benefited from a photo. So, take pictures of your stuff. Do your research and price your items to sell. What is a pair of new baby shoes selling for? Include appropriate details. What's the brand name of the baby shoes? Size? Color? That's it.
Still unsure? Read the help section – It really helps.
Here's another tip: Tell your friends
Your friends may be interested in knowing what stuff you're selling. They may know someone who's interested. Send an email, or mention it in a conversation (or blog post). Spread the word. You never know.
P.S. If a friend is interested in something you have for sale, make sure you give them – as my friend Mary likes to say – "best friend price."
P.P.S. So far, I'm selling toys (rocking horse), sporting goods (skis, helmets, boots), antique school desks and furniture on craigslist. If you're interested in anything, shoot me an email and I'll give you details.
If you have any other tips you'd like to share, please send me an email or post a comment.
Bonus: Inspired by my recent craigslist spree, I'm working on a series of short stories that explores the question:  Can you find happiness from another person's stuff?