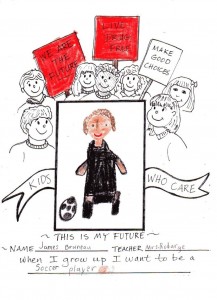 We sabotage our college applications or email pitches or websites, predicting in advance that we're not going to make it, not good enough, not worthy. So we set out to save them the trouble of having to think hard about the no. If someone wants to say no, let them. But no need to help them get to no before they get the chance. Let them do their job.

– excerpted from Seth Godin – "Helping the rejection committee"
Lately, I've been reading a variety of memoirs: Delivering Happiness, Crush It, Open,  and Operating Instructions. They're all very different, yet oddly similar. These are the stories of people who have failed, who didn't think they were good enough, who got rejected time after time, yet kept working on their dreams (very Springsteen like, I know). They found success and a purpose. With that they are giving back and sharing their experiences with others.
In his book Open Andre Agassi writes about hating tennis, yet it was the thing that his life revolved around, and that he was extraordinarily good at. Agassi, former World No. 1, Career Grand Slam winner, and generally considered to be one of the greatest tennis players of all time, often sabotaged himself when playing. He hoped his opponents would lose so he could win. He lost matches by not believing in himself; by thinking he wasn't good enough to return the ace or break his opponents serve. He saved his opponent's game by losing. He was chasing perfection, and perfection doesn't exist.
How often do we think like that at work, life and play? How often do we aspire to perfection, when our best will do?
When I was 27 I started my own imaging supplies company. I collected ink and toner cartridges for remanufacturing and sold printer supplies to businesses. I researched the market – now a $43 billion industry – wrote a business plan, created marketing materials, made cold calls and peddled my gear. For one year I made zero money and got plenty of rejections.
While my persistence won me dozens of customers, I was a pony competing with racehorses. I didn't have the buying power, or capital to invest. Running a business was hard. It took a long time. And there was no money to show for all the hours I put in. So, I decided to give up entrepreneurship, close my company and get a job that paid. While I couldn't help but think that my business died before it really got started, I learned a few things:
The more no's you receive, the closer you are to a yes.
Don't think too much, just make the call.
Don't talk too much; you'll lose the sale.
Add value and a personal touch.
Rejection sucks, but makes you stronger.
Great opportunities aren't a sure thing.
You can learn from failure and apply it to new experiences.
The other day, I heard my son say: "I'm an idiot for forgetting my music notebook."
"Next time, you'll remember," I tell him, "but you can still practice."
"It's too hard for me," he said. "I can't press down on the strings of my cello."
"Remember when it was hard for you to kick the soccer ball with your left foot? Now you can. You're good at kicking with your left foot. Playing cello will get better as long as you practice."
"But my friend is better than me."
"Don't worry about him. Worry about yourself. Be the best cello player you can be. Be the best soccer player you can be. Only you can be the best at what you decide to be the best at."
I wanted to add, If you decide that you don't have the passion for something, don't do it. It's OK to stop doing what doesn't make you happy. Is that failure? Maybe. But if you learn from it, then you've failed brilliantly.
I thought about that conversation; that moment. I realized that I routinely sabotage myself by thinking "I'm not good enough," or saying, "I can't do this," or "I'm stupid." "There's not enough time." "It would be easier if I just quit." I write all the time and think that most of it sucks. But I can't stop writing.
Rejection has fueled my passion.
Winning takes a lot of hard work, time and effort. There will always be rejection, loss and interference. There will be moments when you think you haven't got what it takes because your teacher said that you can't write, so better figure out something else to do in life. Let them say what they will. But don't sabotage yourself with negative self-talk.
James has a lot of people pulling for him in school, on the soccer field, in music class. They support him. They tell him that he can when he thinks he can't. He's not perfect, and he needs to understand that it's okay. I only hope that he ignores the miserable rejection committee in his head and keeps moving forward.
What do you think?
Connect with me on Facebook or Twitter. Leave a comment on my website or send me an email.