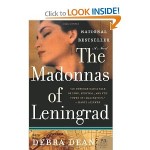 The Madonnas of Leningrad: A Novel
Author Debra Dean doesn't know who Marina's son's father is nor what exactly happened on the roof of The Hermitage Museum one night in 1941. She isn't being coy when she talks about her book "The Madonna's of Leningrad"– an "If All of Rochester Read the Same Book" book. She just doesn't know. One thing, however, Dean does know is how to create a vivid tale of love, survival, memories, and imagination.
During her visit to the Penfield Library on Wednesday, March 29, Deborah Dean entertained us by reading her favorite chapters, sharing stories about the writing process, and fielding a variety of questions. The event "If All of Rochester Read the Same Book" presented by Writers and Books (WAB) is in its 12th year.
100 Word Review starts here:
"The Madonna's of Leningrad" is the fictional story of an elderly Russian woman slipping uncontrollably into dementia. Marina recalls, however, exquisite details of Fragonard's painting "The Stolen Kiss" and imagines the thoughts of the girl in the satin gown who's being kissed by a suitor. As a guide at The Hermitage, Marina toiled with staff to save 1.2 million artifacts from destruction during The Siege of Leningrad. While taking refuge, Marina builds a memory palace to remember the paintings that once adorned the museum. Like a docent, Dean skillfully moves us through Marina's memories as the disease consumes her mind.
Have you read the book?  Send me an email, post a comment on my blog or Facebook, or Twitter.