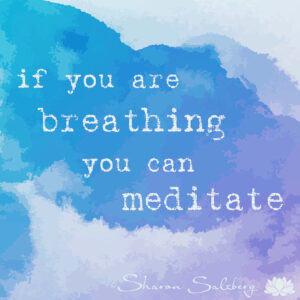 Last year, I bought the book Real Happiness by meditation teacher Sharon Salzberg to understand more about the power of meditation and to sit longer and more often. After reading this book once, I have gone back to it over and over, re-reading and highlighting passages that I want to remember and share with others.
Recently, I signed up for The Real Happiness Challenge, a 28-day exploration of the tools of meditation led by Salzberg, with a goal to deepen my practice, sit with a like-minded virtual community, and share my experience.
When the mind is at ease, according to Salzberg, our hearts are open and calm and we can more naturally concentrate. Often I commit to sit and then I am bombarded with sounds, images and questions, threatening to overthrow my practice:
The dog is whining: What does she want?
What will happen to Midge in the next episode of The Marvelous Mrs. Maisel? (don't tell me, I'm working on season 3)
I really don't want to make dinner tonight
I forgot to call my parents
That speech isn't going to write itself
The answer is to begin again. 
Everybody's mind is out of control. If that were not the case, we wouldn't need meditation. The key to meditation is to start over again and again. The next time I sit, I will accept distractions as impermanent buzzing creatures that don't need my attention right now and simply begin again.
This is my best work today. Thanks for reading. If you like this post, please feel free to share it with your friends. Follow me on: Instagram (@kristinebruneau).