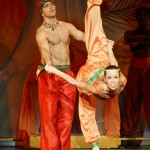 Recently, I was asked to write an article for Rochester Woman Magazine about The Nutcracker Ballet, which is performed by Rochester City Ballet in collaboration with The Rochester Philharmonic Orchestra and Bach Children's Chorus. I learned so much about this holiday classic, ballet in general, and how dance can convey a poignant and unforgettable visual experience thanks to Rochester City Ballet's senior marketing manager Debbie Tretter and artistic director Jamey Leverett.
I couldn't put everything I learned into my 900-word-article, but one of the most memorable moments I had was a behind-the-scenes peek of rehearsals at Rochester City Ballet, which is located on University Avenue in Rochester. Dancers were working on the popular "Waltz of the Flowers" scene, which occurs in the kingdom of the sweets. The dance is literally a waltz, and the dancers were working on perfecting their steps under the eagle eye of Leverett. This was also one of the first rehearsals that the Sugar Plum Fairy, played by Jessica Tretter, got to wear a classical tutu. My wonderful guide, Debbie Tretter explained to me that once the dancers put on a tutu – a wide, flat skirt that is hooped, and tightly tacked – they can't see their feet!
You can read my article online here and see the entire November issue of Rochester Woman Magazine on Issuu.com.
If you're like me and have never seen a live performance of The Nutcracker, I hope that after you read my piece it moves you to consider attending one of the six performances from November 23rd to 25th at Kodak Hall in Eastman Theatre. Tickets are available at rpo.org.
Thanks and happy reading!