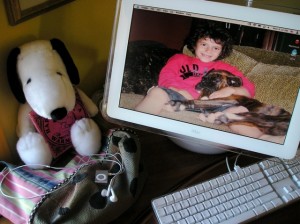 Oprah has hers, I have mine. Some you can buy, others you can't. This list is in no particular order. I have more items, but I ran out of time.
Fit flops
Lucky jeans
Steve Madden sunglasses
Kenra curl crème
Snoopy
My Mackenzie Childs bag
Red raspberries
Oolong Chataigne tea
Vosges' Barcelona bar
Yoga
Lipgloss
"Rum Punch" by Elmore Leonard
Watching any movie by Quentin Tarrantino, especially "Jackie Brown" and "Pulp Fiction"
My Mac
iTunes
My shuffle
Looking for fireflies on a summer evening
The smell of smoke from a campfire on a crisp autumn day
Petting a warm puppy
Eating chocolate chip cookie batter with James
The smell of fresh brewed coffee delivered to my office in a warm mug
Quiet conversations with Rob in the sunroom
Cheboygan, Michigan
Sharing stories with family and friends
Sipping a cosmopolitan with my dad
What are your favorite things?
P.S. Happy Birthday Dad!