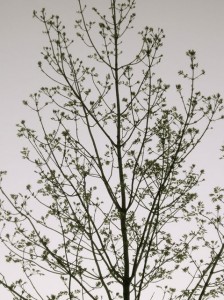 Looking for some quiet introspection the other morning, I read a random passage from Quiet Minds. The reflection was about trees: How trees can foster stillness, solitude and calm.
Growing up, I did not have a climbing tree, or tree house, or tree swing. I did not receive my first kiss beneath a tree. I do not recall any special childhood moments at all. A tree was a tree, good for shade and not much else.
Once I could work a camera, however, I enjoyed taking pictures of trees. The most beautiful images were the ones I snapped after an ice storm in 1991 destroyed many trees in Rochester. Their bodies were slick with a thick, icy varnish. I distinctly remember the crackling sound the branches made outside my bedroom window just before they fell to the ground with a thud.
As I returned to the present, a single regal tree came into focus: a white ash called an Autumn Applause. It grows near the patio in our backyard and is my favorite.
Reflection: The Tree

The tree buds late this spring as he does every year. A gangly, pimply teenager, he yawns into the gray morning stillness. While his friends revel in their robes of plum, gold and green, he stiffens with indifference. Unlike the pretty people, he can wait to unfurl.

A bird flits from bough to bough, seeking cover from silver mist. Today, alas, the winged take no comfort in his silent reverie.

Oh, how grand he will become, adorned in his green finery! During the coming weeks his leaves will swell from spindly limbs. Feathery foliage will offer dappled shade to barefooted, blue tongued imps on a hot summer day.

Against great winds, he will not bend, but stand boldly until the assault ends. At twilight, his branches will nod and wave to the songs of laughter and tinkling glass. Beside him a fire crackles. A breeze lifts smoky wisps through his curly crown, but he is not afraid.

He is honored to be The Tree.