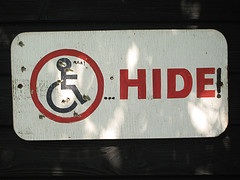 A few months ago, I wheeled my injured 88 year-old grandmother into the orthopedic's sparkling, new office, and crashed the chair into the wall.
"Sorry, gram," I said, hoping I didn't leave a permanent mark. The receptionist politely ignored my lack of wheelchair navigation skills and checked us in. I redirected my monstrosity on wheels to the waiting room, where I nearly clipped a gentleman's outstretched legs.
"I'm so sorry," I said, cursing my inability to steer properly. Gram grunted, worried more about what was wrong with her leg than any potential threat I posed. Not your typical blue-haired, my gram is an enhanced blonde, with high cheekbones and a feisty spirit. However, like all octogenarians she has a list of ailments that she habitually reminds me of:
"Oh, my eyes – I can't see too good, you know."
"I'm gaining weight, I never used be this heavy before."
"I can't walk as far as I used to, I get tired."
"What? I can't hear you. What did you say?"
Mostly, I listen, but once I hear the same complaint for the umpteenth time, I tune out. I can't help it. She doesn't want advice; she just doesn't want to be old and live with all the baggage that comes with aging.
Throughout her life my beautiful grandmother accomplished nearly everything she put her mind to. She was a persistent, determined divorcee; a working mother of two kids who was way ahead of the Feminine Mystique. Later in life, she married and divorced a second time, traveled abroad, moved to Florida, and then returned to friends and family, only to bury her son. She's a survivor, used to doing things herself.
Today, however, she had a real problem -she couldn't stand without help, let alone walk.
For a couple of months, my gram had complained of knee soreness. Once when we were walking to a party, I gave her my arm to hold onto because she seemed unsteady. My husband Rob told me to stop pulling her.
"That's just the way she walks," I snapped. Gram's right foot pointed at an odd outward angle. "She walks like a clown," I said.
At the orthopedics, I pushed her into the wheelchair accessible bathroom, but that proved to be no bigger than a broom closet.
"Oops." I smacked the wall again, as gram wrestled for control of the wheelchair.
"I can do this," she said.
"Let me put you near the toilet," I said. Even this proved difficult since I had to push the chair forward and back to give her room to step out, but not fall into the toilet. I locked the wheels and squeezed between chair and sink, leaving her alone for the moment.
After she finished, I backed her into the small hallway, only to get stuck. Her massive, quilted purse containing bits and pieces of her life was wedged in a wheel. Disentangling the bag, I tried again, but the wheels were locked. And then I miscalculated the distance in the waiting area, and banged into another wall.
We headed to the exam room where maneuvering the giant chair proved tricky again. Barely clearing the narrow threshold, I had serious doubts about the engineer's competence. Shouldn't they have known about bulky wheelchairs and inept handlers?
The physician's assistant (PA), a tall, handsome woman came in and greeted us. "How long have you had severe pain in your knee?" she asked.
"Well, this morning I got up," said gram. "And I walked downstairs. I had a nice breakfast…" Here we go, I thought and rolled my eyes, as she detailed her food consumption.
"But when I went to get up, I couldn't," she continued. "One of the aids at my place saw that I needed help and couldn't walk. She got me a wheelchair."
I held my tongue, curious as to how long the PA's patience would hold out in listening to an elderly woman who likes to answer questions with an epic tale.
"I'm an exerciser, you know," gram said. "I walk all around my building -"
"Does it hurt when I touch it here?" asked the PA. "Unhhh. Ah- ah – ah," gram groaned. The PA repeated her question.
"It's tender," said gram, "But not too bad."
"Here?" said the PA moving her skilled fingers around the slack skin surrounding gram's kneecap.
"Yes! There!" gram shouted, nearly springing out of the chair.
With a deftness that comes with many years of care and concern, the PA wheeled gram out for X-Rays.
Waiting for the results, I considered how gram must feel, as she struggled to balance a depreciating body with high expectations of activity and independence. How much longer will that be? Will I have to push her around in a wheelchair from now on? What will I be like if I made it to my gram's age?
Gram's foot, explained the PA, was deformed. Her instep was collapsed, so her knee was out of whack. Her foot wasn't going to get a whole lot better without some treatment. I asked a few more questions, making sure that gram understood the diagnosis as well as her choices.
Gram went for a painful cortisone shot to her knee and a prescription for an ankle brace.
"I have to wear this all the time?" gram said.
"Yes," said the PA, "if you want to walk without pain."
While gram fussed about having to wear an ugly brace on her foot for the rest of her life, I was relieved. She would walk again, and I wouldn't have to bang into walls much longer.
"I'm tired," she said, as I wheeled her into the bright autumn afternoon.
"I'll take you home," I said.
Wheeling my grandmother wasn't easy, but I felt a sense of accomplishment. I helped her when she needed me the most, and I learned just how difficult it is to steer a wheelchair with empathy.