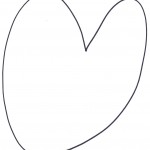 What are you doing this Valentine's Day with your loved one? I hope it's not like this year's Modern Family episode "Heart Broken."
While I'm not spending the evening with my husband, I get to spend it with my son, which is a gift. I'll start my day by listening to James' valentine song.  "Won't you be my valentine?" always makes me smile when I play it. After James rides the bus to school, I'll visit a chocolate maker in town for an interview and taste some chocolate for a story I'm writing (more to come on that later). I'll FaceTime with Rob (we'll celebrate V-day later this month), drive James to soccer training, eat more chocolate, and read a quirky, love story about a couple who flee their midwest suburban home for Niagara Falls during Valentine's weekend. The book is written by one of my favorite authors, Stewart O'Nan, who has a knack for exposing truths and making the case for redemption.
Want to curl up with a good love story – for free? Grab a glass of wine, some chocolate and download a story online at Project Gutenberg, which offers more than 42,000 electronic books (ebooks) for various e-readers.  Here's the top five most downloaded love stories:
1. Pride and Prejudice – EPUB
3. Anna Karenina – EPUB
5. Wuthering Heights – EPUB
If you want to read on your iPhone (like my mom) then click on the word EPUB next to the book. This is the electronic version that will open on your mobile device. When prompted, open in iBooks. There are other versions, including Kindle. Not interested in reading a love story on your mobile phone? How about Beowulf, Les Miserables, or  The Importance of Being Ernest? Click on Project Gutenberg's mobile site here and search away. (Thanks to Media Bistro's Galleycat for the inspiration)
Oh, and Happy Valentine's Day!
Thanks for reading. If you like this post, please feel free to share it with your friends or send me a comment. You can also post a comment on my blog or Facebook.