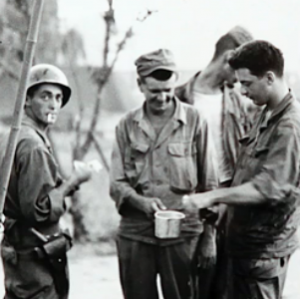 From 1950 to 1953, the United States military fought to protect South Korea's capitalistic democracy from communist North Korea's invasion on the Korean peninsula, which was divided after World War II. More than 33,000 American soldiers lost their lives during the Korean War in the name of freedom, according to U.S. Department of Defense statistics. Joining the list of casualties were thousands of soldiers sent by 16 nations and millions of Koreans turned refugees in one of the most deadliest wars fought in the 20th century.
Betty Perkins-Carpenter, 83, a local Korean War veteran has been searching for matches of Korean War soldiers in a collection of 138 black-and-white, glossy photographs she received about two years ago from the Monroe County chapter of the Korean War Veterans Association. The photos were commissioned by the U.S. Department of Defense at the beginning of the Korean War.
Recently, I followed up with Perkins-Carpenter when she received a second match from a Rochester-area family in response to the Democrat and Chronicle's Snapshots from the Korean War project.
"Somewhere in Korea on August 9,1950, 34-year-old William Michals held out an empty tin cup to receive pop from a fellow American soldier. In the photo, Michals, wearing a cap, is standing to the left of Crawford Flynn, previously recognized by Tiana Stephens of Rochester as her grandfather. As Flynn served the cool, sweet drinks to Michals and other servicemen who gathered during a break in fighting, a photographer snapped their picture."
 To read the full story online at the Democrat and Chronicle click here.
Not only was the Korean War a vicious battle in an effort to protect freedom, but also it leaves America with a lasting imprint.
"More napalm was dropped on the Korean Peninsula during the Korean War than on Japan—a country that launched an attack on U.S. soil—during all of World War II," according to Jongwoo Han, Project Director of the Korean War Veterans Digital Memorial.
A ceasefire treaty at war's end holding the 38th parallel is still in place today. North and South Korea continue their separation by a heavily fortified 2.5-mile-wide demilitarized zone (DMZ), and tensions remain high, particularly over the North's fledgling nuclear weapons program.
With approximately 28,000 troops at the contentious DMZ, America continues to be South Korea's defense shield even as it has emerged as the world's 13th-largest economy and a massive exporter of popular consumer products.
Approximately, 5.7 million Americans served in the Korean War. About 2 million veterans are living in the U.S. with an average age of 80. So, Perkins-Carpenter is on a mission is to get these snapshots into the hands of veterans and families of veterans as quickly as possible.
Find connections and search the snapshot database online.
Thanks for reading. If you like this post, please feel free to share it with your friends or send me a comment. Don't forget, you can like this post on Facebook, tweet to your followers, or post a comment on my blog.