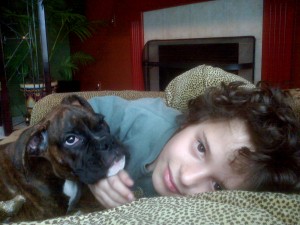 Life has a way of organizing itself. As I drove home Thursday afternoon in the beautiful spring-like weather, something caught my eye. I looked again to see a dog's head poking out from the passenger's window of a car. The sweet breeze blew back the floppy ears of a boxer. I knew that was my sign, and I couldn't stop thinking about it.
Ruby loved to go for a ride. While she usually rode in the back of the station wagon, sometimes I let her ride next to me with the window cracked open so she could smell the wind. Her death just after last Christmas left a gaping void in our family. With Rob out of town the past two weeks, James and I felt lonelier than ever.
When James came into my office the next morning, we decided to search online for boxer breeders to see if there were any puppies available this Spring. We found a breeder nearby that had a litter of four boxer puppies – another sign. It wasn't even 6 am, so James and I had to wait until a respectable 8:30 am to call. One puppy was left, and the breeder was thinking about keeping him because he had such a sweet temperament. After talking with the breeder for twenty minutes, I booked an appointment that afternoon to meet him and his dogs. Minutes after Rob arrived from his red-eye flight, and despite my warnings of "we're just looking, not buying," James announced that we were getting a puppy.
It turned out that James was right. We took a look at the calm, three month old boxer puppy and fell in love. He was brindle – a dark, tiger-striped coloring- with floppy ears, a white chest and a square jaw. He followed James around, curious and interested. James rolled his ball and held his rope tug. We all laughed when the puppy instinctually used its front paws to play with his toys, just like a boxer. Rob and I looked at each other and knew he was going to join our family.
The breeder said to me "everything happens for a reason." He was almost resigned to keeping the pup until I called. It helped him to know that our family had owned boxers, but what made it easy for him to let go of the pup was James. It was important for him to place his puppy with children. Boxers have been described as exuberant, energetic, playful, silly and affectionate. They are all that, and then some. But the greatest thing I love about the breed is that they are wonderful with kids – gentle, patient, loving and protective.
Now, James has a little buddy to take care of and play with. In return, I'm sure Beck will teach James a lesson or two about life, love and happiness. Life does have a way of organizing itself for the best.
P.S. We chose Beck as the abridged name of one of our favorite soccer players David Beckham. Coincidentally, James and Rob wore their Beckham jerseys the day we got Beck.