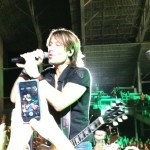 I got my country groove on last night with Keith Urban at Constellation Brands-Marvin Sands Performing Arts Center (CMAC). Except for all the cowboy hats and boots worn by fans, I wouldn't have known I was at a country music concert. Yes, I went to see Keith Urban Friday night in Canandaigua with my country music sherpa Jo-Jo. And yes, moms, ladies, and gentleman, Keith Urban is gorgeous!
The four-time Grammy Award winner and American Idol judge took the stage with his trademark straightened and highlighted hair, sculpted and tattooed chest and arms, and tight jeans – it's hard not to pay attention. He looks like a rock God, but he plays country music? Jo-Jo wisely pointed out that it's not your "Hee-Haw" kind of music.
Since I'm not a follower of country music, I really had no idea who the opening acts were, but I remembered Little Big Town. Wow. The band's cover of Fleetwood Mac's "The Chain" was smokin'. But I came for Keith Urban and his "Light The Fuse Tour." Up close or far away, he's not only cute, but can sing falsetto hooks and shred a guitar. He plays with tremendous energy and his excitement is infectious. From his own stuff to a cover of The Who's "Won't Get Fooled Again" I was in awe.
Urban loves his audience to the point of reading aloud hand-made signs by fans who had hoped to get a hug, or perhaps dance on stage. One teen fan got her wish when Urban read her sign: "Put me in a song." He invited her on the stage and before he sang to her, he asked where she was from. She replied, "Canada." The audience, which was an interesting blend of young and senior-folk, booed. Incredulous, Urban who's Australian, turned to us and said something like: chill out, she speaks English.
Up until last night, I knew only two of his songs – "Kiss the Girl" and "A Little Bit of Everything," but it didn't matter. I found myself grooving to all of his radio-friendly beats by the end of the two-hour set. A turning point was when he stood five seats from me on a table, singing and playing. He was so close, I could have touched him. In the end, Jo-Jo got it right. Urban lit our fuse and together we got our country groove on. (Click here to see the video snippet.)
What do you think?
Thanks for reading. If you like this post, please feel free to share it with your friends or send me a comment. You can also post a comment on my blog or Facebook.